1. Salon of Excellence conference and awards
Salon of Excellence - Conference on Eco Sustainability of fashion, moderated by Fabiana Giacomotti, with Alessandro Botta (Lanificio DRAGO), Franz Botre (ARBITER magazine), Maro Del'Oglio( BEST SHOPS) and Helen Lambert Associates
Award for ECO Sustainability in 2018 presented to LANIFICIO DRAGO for their role in creating sustainable and eco friendly business model
Award for Fashion business development in 2018 presented to Mario dell Oglio for Best Shops project.
2. Masters of Elegance - Showcase and Cognac Talks
Hugo Jacomet of Parisian Gentleman presented new tech-flannel cloth created by Lanificio Drago exclusively for Cifonelli, Paris.
Alex Dordevic of DeGorsi, chaired the Martell Cognac Talks with Wei Koh of The Rake and Mat Hranek of WM Brown magazines, on current media trends and more.
Seal of Excellence has been awarded to each of Masters of Elegance:
Lorenzo Cifonelli of Cifonelli, Paris
Valentino Ricci of Sciamat 
Gennaro Annunziata of Chiaia, Napoli.
Masters of Craftsmanship powered by Arbiter magazine, featured SINISCALCHI Milano (shirts) and Calzaturificio DUCAL Firenze (shoes)
3. Fashion Frames showcase and Art exhibition
Lady Cris Egger curated FASHION FRAMES selection of established and emerging jewelers ( renowned Marina Corazziari jewelry, Savini Jewels, Berg / IJG jewelers, and young fashion brand Agarw - Ud)
Artist Jakob Bolotin was featured in the art segment of the event, with his fashion inspired artworks created in unique collage technique.
Fantastic evening at the luxurious Westin Excelsior Firenze hotel was supported with a superb selection of CUVAGE spumante
PHOTOGRAPHY BY GIACOMO M. PEROTTI
EXLCUSIVE PITTI EVENT COMING SOON!!!!!!
MASTERS OF ELEGANCE powered by DRAGO The Westin Excelsior Florence, Piazza Ognissanti, 3, Tuesday, January 8, 2019
18:00h CONFERENCE Eco-sustainability of Luxury business with top fashion buyers, in collaboration with Mario dell'Oglio, president of the Italian chamber of fashion buyers 19:00h MASTERS of ELEGANCE by DRAGO / SHOWCASE and the AWARD CEREMONY A showcase of splendid evening elegance, tailored by style masters and selected by Alex Dordevic of DeGorsi, featuring; Lorenzo Cifonelli (CIFONELLI), Valentino Ricci (SCIAMAT), Gennaro Annunziata (CHIAIA) with Masters of Craftsmanship: Ducal (shoemakers, Florence), Siniscalchi (bespoke shirt makers, Milan) 19 :30h Fashion Frames curated by Cris Egger featuring: Berg (jewelry), AGARW-UD (contemporary fashion), Savini Jewels( jewelry) Exhibition of art-illustrations by JAKOB BOLOTIN with cocktail powered by CUVAGE
Caesar Luxury Summit, Buchurest, Romania - November 15 and 16, 2018
Alex Dordevic, chairman of DeGorsi Luxury Consulting, took part at the summit and curated the panel Bespoke Luxury with participation of Valentino Ricci of Sciamat, bespoke tailors. The event was moderated by Dan Vardie, chairman of the Summit.
Other distinguished speakers were Ferruccio Lamborghini Jr. of Tonino Lamborghini company, Stefano Macaluso of Girard Perregaux watches, Pasquale Bruni of Pasquale Bruni jewelers and other distinguished speakers.

Special part of the event was the exclusive trunk show by Sciamat, that took place at the Cellini, a leading jeweler, headquarters downtown Bucharest.
Salon of Excellence at Looshaus, Vienna October 5&6,  2018
Salon of Excellence at Looshaus Vienna October 5&6
Following the success of previous editions during Pitti Uomo, renowned Salon of Excellence created by DeGorsi, is taking the stage for the first time in VIENNA, Austria as part of the major design event Design District 1010.. The venue is fabulous LOOSHAUS, an architectural gem, created by the famous architect Adolf Loos, right next to the Hofburg Palace. Today it is the seat od Raiffeisen private bank...but in 1910 was the No1 luxury shop in Austro Hungarian empire.
We will be presenting, just for Viennese aficionados of excellence, on Friday and Saturday October 5 an 6, only the most coveted masters of craftsmanship with their beautiful products. Main partner is LANIFICIO CERRUTI and we have superb artisans on board: CIFONELLI of Paris (bespoke tailoring), SINISCALCHI of Milan (bespoke shirts), RIVOLTA of Milan (made to order shoes), TBD eyewear etc.
Top level masters of craftsmanship at a spectacular venue, and one off opportunity to meet, chat and order some of the finest products in the world, during our daily Trunk show.
"Chivas 24 HOURS of ELEGANCE by Audi"           September 7 - 9, 2018

City of Belgrade hosted the eigth edition of the finest classic car and culture of excellence event in Southeast Europe, the "24 hours of Elegance - Concours d'Elegance & Salon of Excellence", from September 7-9. Already famous international event dedicated to the prestigious brands, true symbols of supreme quality manufacture and craftsmanship of details, created and chaired by Alex Djordjevic of DeGorsi luxury consulting and co-chaired by Lady Cris Egger, once again brought international elite to Belgrade and Serbia.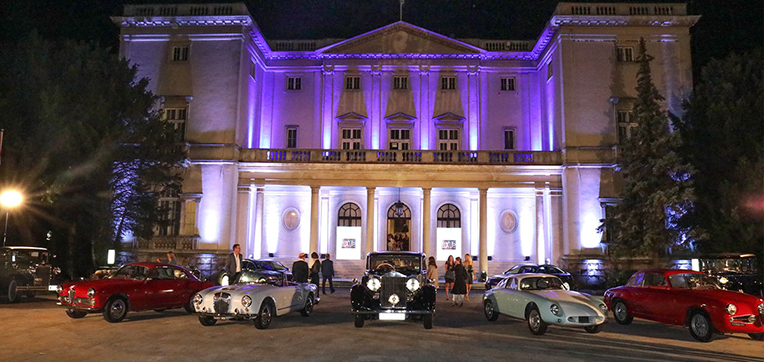 Since 2011, the event is held under the patronage of the Royal Family, organized with support of Belgrade Waterfront and in synergy with Serbian Federation of Historic Vehicles (FIVA member). This year, patron of the event was HH Princess Olga Romanoff, of the Russian Imperial family.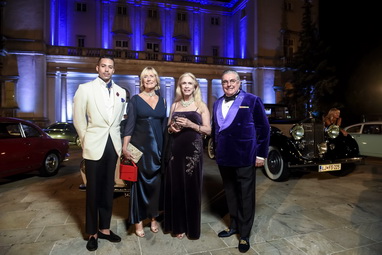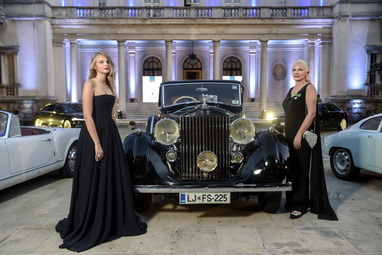 Gathering commenced at the White Palace, on Friday, September 7, 2018, with  the opening of MASTERS OF EXCELLENCE exhibition in partnershi with  G.H. MUMM champagne, presented by the renowned ARBITER magazine, that was dedicated to the Italian elegance this time. Star of the exhibition was maestro Antonio Panico, one of the most famous tailors in the world, whose impeccable Neapolitan style is appreciated by true afficionados of excellence worldwide. Naturally, a bespoke suit demands fabulous shirts and for the occasion one of the most coveted brands, Marol from Bologna, was represetned by its CEO, Bo Yang. Complementing the selection of master craftsmen were shoemakers Ducal from Florence with their inimitable dandish style creted by a lady owner, Marialisa Sani, while the exclusive cloth makers Drago showed their latest precious fabrics. Segment of accessories was enriched by handmade sunglasss of The Bespoke Dudes and a very original concept of bespoke travelling bags by Uglys Handmade from Naples.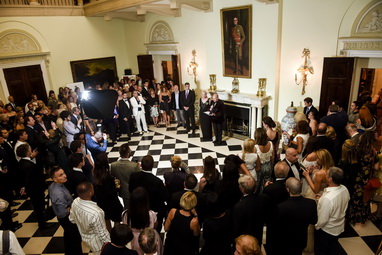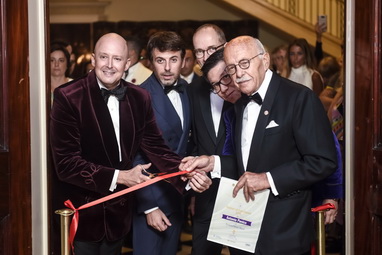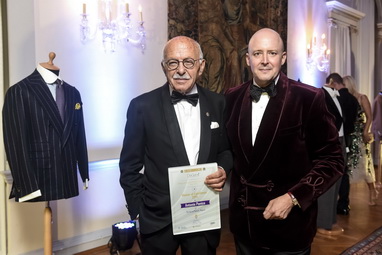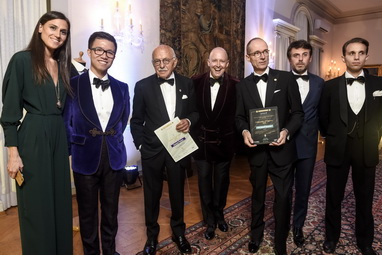 Simultaneously, KEN LINDSAY, CHIVAS's International Brand Ambassador, took VIP guests for tasting of CHIVAS REGAL Extra, at the Royal Library. During the evening  guests were introduced to the CHIVAS REGAL THE ICON - the pinnacle of the Chivas Range that, befitting of the luxury liquid within, was presented in a hand-blown crystal decanter.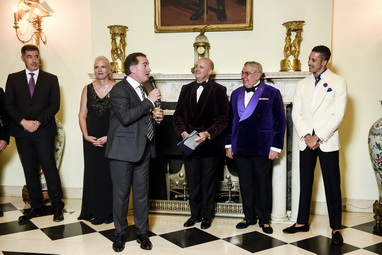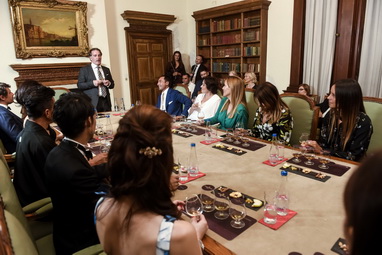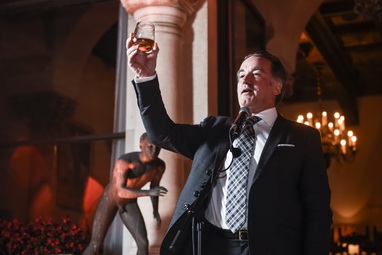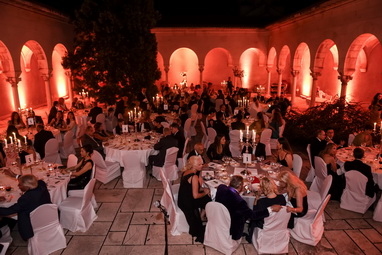 One of highlights was the presentation of local manufacturers of bespoke items, like Maruška hand painted ties and accessories, HOH made to order watches by Jovan  Jelić, who showed their latest timepiece created  in partnership with AQOS supercars. At the Royal Palace, guests enjoyed a live performance of 24 hours of ELEGANCE BIG BAND, while the second part of the event included charity auction.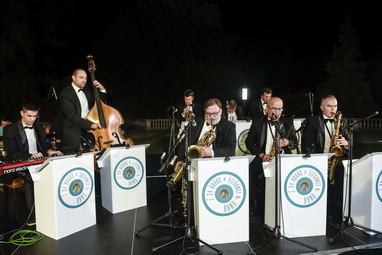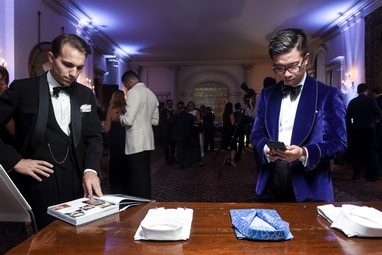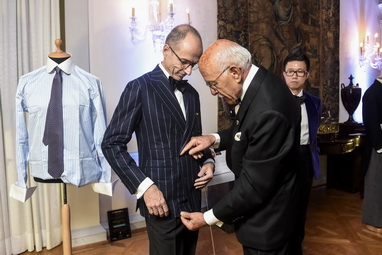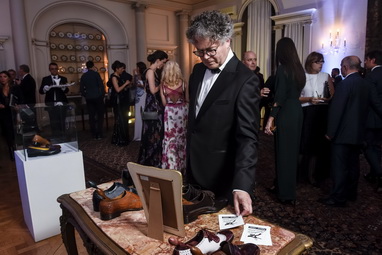 Saturday, September 8 was marked by "Belgrade Waterfront Classic Car Show 2018". Brand new, Belgrade Waterfront real estate project played the host of the prestigious car competition "Chivas Concours d'Elegance 2018", the exhibition of the most beautiful classic cars. However, one of the highlights was the launch of the amazing AUDI Q8, the latest offering from the esteemed german manufacturer, that represents the absolute apex of automotive design and technology.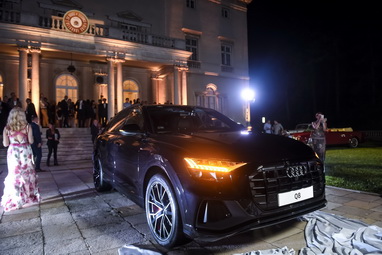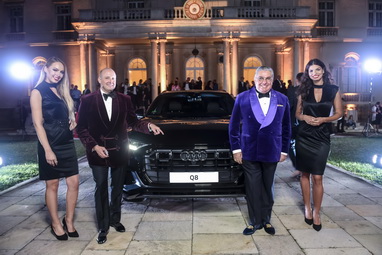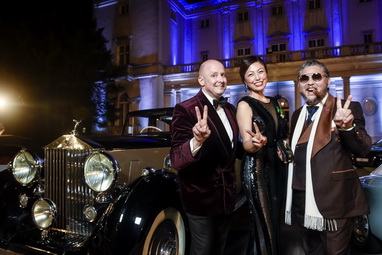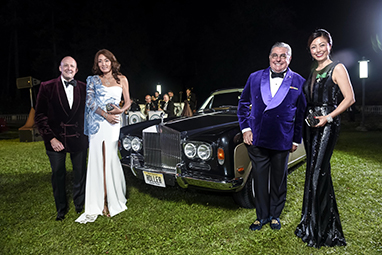 On the Conocurs field,  splendid automobiles were evaluated  by the jury of automotive experts, presided by Ton Roks of Octane magazine, with support of Tido Bresters of FIVA, who selected the best ones in different categories. The afternoon culminated with the award ceremony of the coveted "CHIVAS Best of Show" awarded to the unique 1956 Alfa Romeo Giulietta SV Speciale "Molteni", from the world renowned Lopresto Collection. Best of Class prizes were awarded to 1969 Rolls Royce Silver Shadow  Drophead coupe of Ambassador Nunzio Alfredo d'Angieri, splendid 1955 LANCIA Aurelia B24S Spider of Giuliano Bensi….A special award, presented by DeGorsi Luxury Consulting, was awarded to Juan de Tamenne for their global motoring initiative Peace&Culture rally.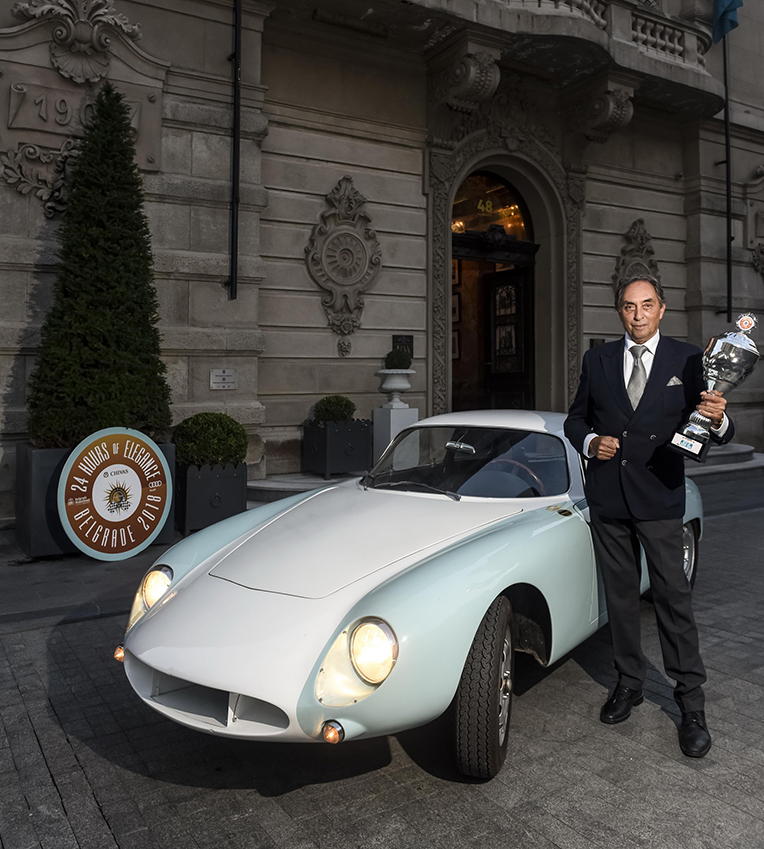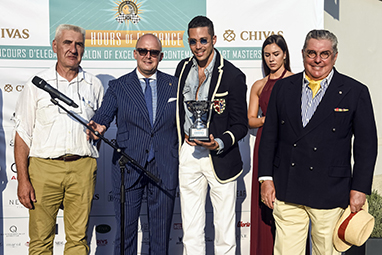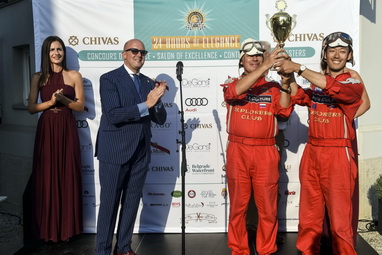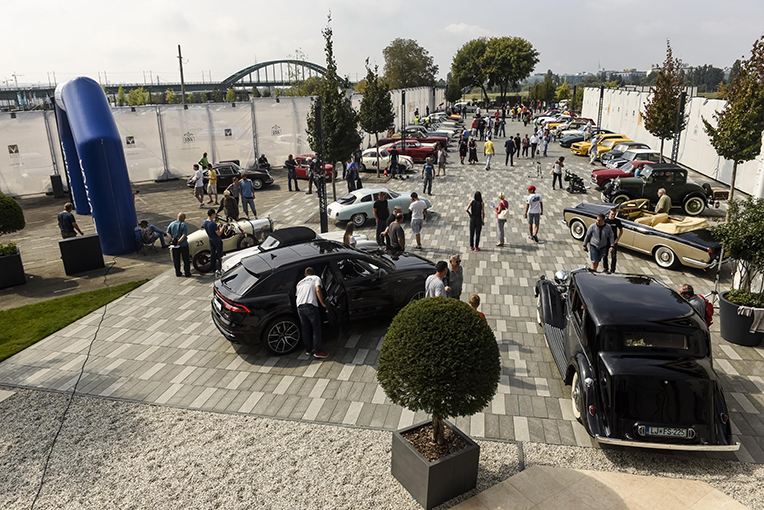 The jury: president Dalibor Ružić(SSIV), Ton Roks OCTANE, Tiddo Bresters FIVA Awarded:
Best in class RACING CARS 1955 Alfa Romeo 1900 SSC Carlo Grelewski, Ferrara
Best in class SPORT AND GT CARS 1964 ALFA ROMEO Giulietta Bertone Collezione Bianchi, Perugia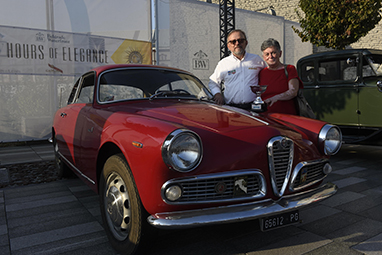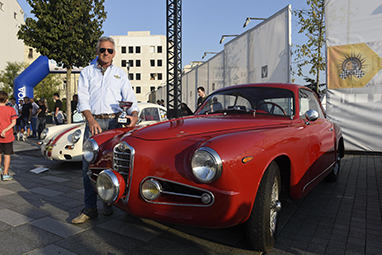 During the Saturday, September 8, afternoon,  at the beautiful hall of BELGRADE WATERFRONT gallery,  center stage was taken by "Salon of Excellence", held in partnership with Diplomacy & Commerce magazine and with support of CHIVAS and LUXLIFE.rs.
Round table was moderated by the chairman of the 24 hours of Elegance, Alex Djordjevic, who discussed elegance with distinguished panelists from famed maisons:  Sartoria Panico headed by Antonio PANICO, superb bespoke shoemakers DUCAL of Florence with Maria Lisa Sani, famous shirtmakers MAROL from Bologna with their Bo Young, renowned cloth makers DRAGO from Biella presented by Alessandro Botta, hand-made to order luggage by Ugly's headed by Paolo Fabozzi. The discussion was co-moderated by the acclaimed elegance author Bernhard Roetzel.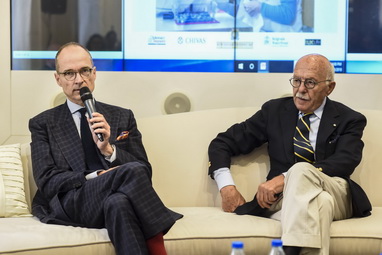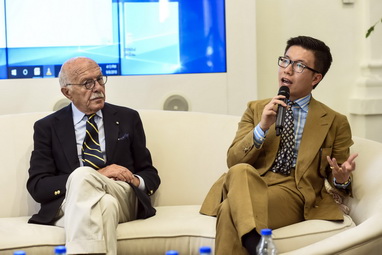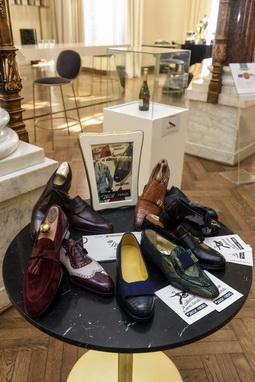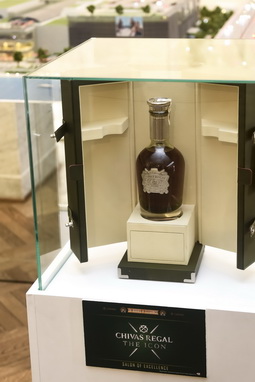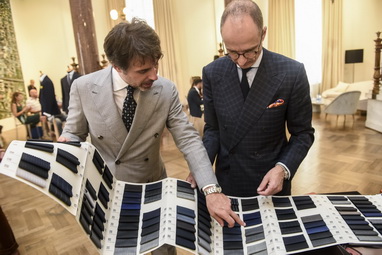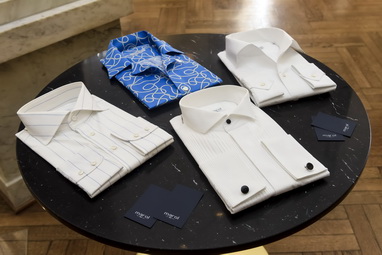 Ladies were treated equally well with stunning jewels by Berg Gioielli curated by Lady Egger .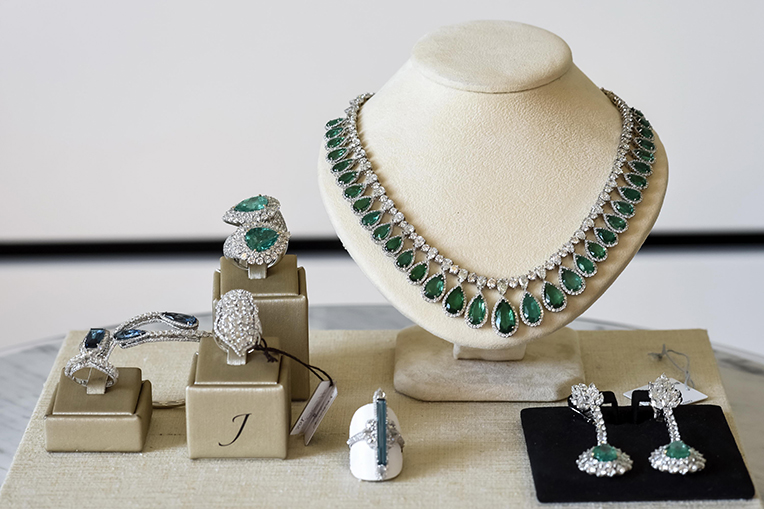 Lastly, the following day, media attention was captured by the launch of autobiograhy by HH Princess Olga Romanoff, titled Wild & Barefoot Romanoff, that added a perfect royal aspect to the entire event.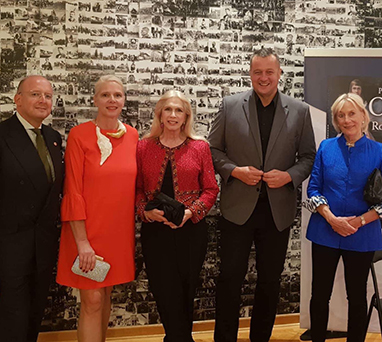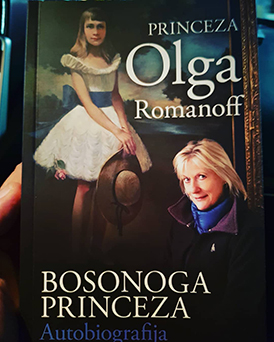 The 24 hours of Elegance - 2018  edition presented by Audi- had its official wrap up with a CHIVAS party held in the stunning  Sky lounge of Belgrade's Hilton hotel, where Chivas joined forces with Gloria magazine creating a memorable atmosphere on rooftop of the most exclusive new hotel in the city.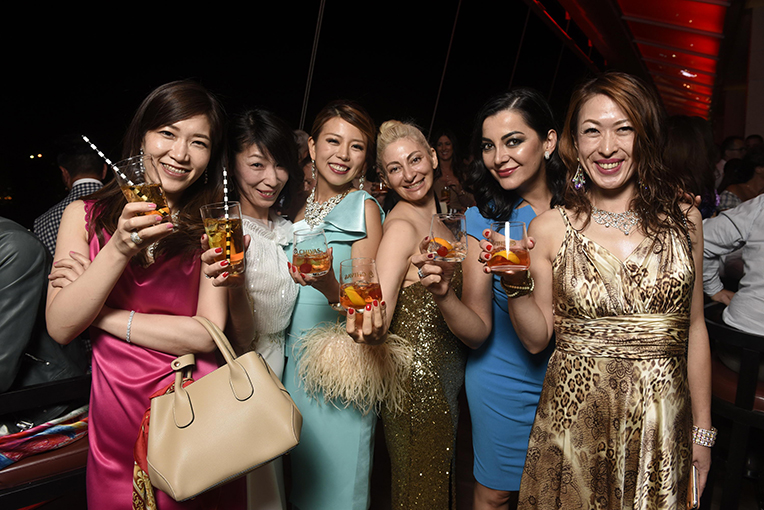 NEW SARTORIAL THREAD competition, created by LANIFICIO CERRUTI and DeGORSI Luxury Consulting, awards GENNARO ANNUNZIATA of Sartoria CHIAIA, as the finest young tailor in the 2018 global edition of this esteemed challenge for talented tailors of the new generation.
SALON OF EXCELLENCE
10th edition
featuring
THE NEW SARTORIAL THREAD
presented by
Lanificio Fratelli Cerruti
FLORENCE - 94th PITTI IMMAGINE UOMO
JUNE 12, 2018
Palazzo Capponi Vettori - Lungarno Guicciardini 1
On June 12th, at the sumptuous setting of Palazzo Capponi Vettori in Florence, under the auspices of PITTI UOMO, Salon of Excellence and Fashion Frames were officially opened by Alex Dordevic, chairman, and Cris Egger, co-chair of the event. They underlined the importance of talented artisans for the fashion system and PITTI as the platform for nurturing the young generation of talents.
At the award ceremony, members of the New Sartorial Thread jury (acclaimed author Bernhard Roetzel, Antonio Panico - master tailor of historic Neapolitan Sartoria Panico and Umberto Paccotto of Lanificio Cerruti, awarded GENNARO ANNUNZIATA of SARTORIA CHIAIA from Naples as the winner of 2018 edition and proud bearer of the New Sartorial Thread title.
Additionally, the jury awarded Best in Style 2018 to Sartoria Fabio Sodano from Naples, Best in Craftsmanship 2018 to Julian and Charles de Luca of Stark & Sons from Paris, while Alessandro Botre of Arbiter magazine presented the special iTravel award of Lanificio Cerruti to tailor Vincenzo Cuomo of Sartoria Cuomo from Naples for the best interpretation of unique features of this amazing cloth, exclusively created by Lanificio Cerruti.
Salon of Excellence,  June 12th, 2018 as of 6 pm - 10 pm, Palazzo Capponi Vettori, Lungarno Guicciardini 1, Florence
Following the success of previous editions during Pitti Uomo, now already renowned Salon of Excellence is taking the stage once again on June 12th, 2018 as of 6 pm - 10 pm, at the mesmerizingly beautiful setting of the Palazzo Capponi Vettori at the heart of Florence. But this time with special award ceremony of NEW SARTORIAL THREAD, a competition for the finest young tailors in the world, powered by Lanificio Cerruti, among other highlights.
This unique happening is curated by Alex Dordevic & Cris Egger of DeGorsi Luxury Consulting, in partnership with LANIFICIO CERRUTI, Camera Italiana Buyer Moda and its president Mario dell'Oglio, with the support of Franz Botre and the ARBITER. The concept is to present the culture of excellence through a selection of finest brands, always respecting tradition but with a progressive outlook on the future.The entire event is divided into three segments, focusing elegance for men and women showcasing some of the finest artisans of bespoke tailoring, masters of shoemaking and shirtmaking for gentlemen along ladies couture and jewelry.
On the occasion of this edition, DeGorsi Luxury consulting and Lanificio F.lli Cerruti will stage an AWARD CEREMONY of the New Sartorial Thread 2018 - GLOBAL initiative aimed at presenting and promoting the young artisans in the sartorial field. Each participant will< present their handmade masterpieces for the next season using Cerruti fabrics.< Competing for the New Sartorial Thread cup, Best in Style and Best in Craftsmanship categories are young bespoke tailoring masters: Gennaro Annunziata of Sartoria CHIAIA (Naples, Italy), Angel Ramos of ANGEL Bespoke (New York, USA), Julien and Charles de Luca of STARK& Sons (Paris, France), Fabio Sodano of (Sartoria SODANO), Timothy Fain of Sartoria FAIN (Kiev, Ukraine) and Vincenzo Cuomo of Sartoria CUOMO(Naples, Italy) Lanificio Cerruti will award a special ITravel prize to a tailor who interpreted in the best way Cerruti's famous iTravel line of fabrics.
Selecting the winner will be a difficult task for prestigious jury members among whom are famed gentlemen's style author - Bernhard Roetzel, editor of Arbiter magazine - Franz Botre, photographer - Carl Edwin Guerre, master tailor - Carlo Andreacchio of Sartoria A. Caraceni and Umberto Paccotto director of Lanificio Cerruti.
As every year, specially curated selection of Masters of Craftsmanship will be the unique highlight of the event. This year we'll present collections of prestigious shirtmaker MAROL of Bologna and famed shoemakers DUCAL of Florence along with well astablushed bespoke-shirtmakers SINISCALCHI of Milan, along with emerging brand of bespoke luggage UGLYS, MINARDI handmade accessories and much hyped Bespoke Dudes eyewear.
Uniquely for this edition, DeGorsi will present its capsule collection co-created with masters of elegance, where Siniscalchi of Milan produced an exclusive safari linen shirt model Urban Safari, shoemakers Ducal created 80's inspired model Mr.Bateman and Sartoria Chiaia created One Night in Chiaia, bespoke suit for special occasions, all with inimitable DeGorsi panache.
During the Fashion Frames Men segment of the Salon of Excellence, famous designer Carlo Pignatelli will celebrate 50th Anniversary of its career, showcasing the latest bridal elegance both for men and women. The venue is spectacular Sala Poccetti in the magnificent 16th century Palazzo Capponi Vettori, right next to Ponte Santa Trinita in Florence. This space of extraordinary beauty, with magnificent frescoes adorning the walls, provides a magical stage for our prestigious event, reception and gala evening in Florence.
Salon of Excellence - PITTI UOMO - January 9, 2018 - Palazzo Capponi Vettori