NEW SARTORIAL THREAD competition, created by LANIFICIO CERRUTI and DeGORSI Luxury Consulting, awards GENNARO ANNUNZIATA of Sartoria CHIAIA, as the finest young tailor in the 2018 global edition of this esteemed challenge for talented tailors of the new generation.
SALON OF EXCELLENCE
10th edition
featuring
THE NEW SARTORIAL THREAD
presented by
Lanificio Fratelli Cerruti
FLORENCE - 94th PITTI IMMAGINE UOMO
JUNE 12, 2018
Palazzo Capponi Vettori - Lungarno Guicciardini 1
On June 12th, at the sumptuous setting of Palazzo Capponi Vettori in Florence, under the auspices of PITTI UOMO, Salon of Excellence and Fashion Frames were officially opened by Alex Dordevic, chairman, and Cris Egger, co-chair of the event. They underlined the importance of talented artisans for the fashion system and PITTI as the platform for nurturing the young generation of talents.
At the award ceremony, members of the New Sartorial Thread jury (acclaimed author Bernhard Roetzel, Antonio Panico - master tailor of historic Neapolitan Sartoria Panico and Umberto Paccotto of Lanificio Cerruti, awarded GENNARO ANNUNZIATA of SARTORIA CHIAIA from Naples as the winner of 2018 edition and proud bearer of the New Sartorial Thread title.
Additionally, the jury awarded Best in Style 2018 to Sartoria Fabio Sodano from Naples, Best in Craftsmanship 2018 to Julian and Charles de Luca of Stark & Sons from Paris, while Alessandro Botre of Arbiter magazine presented the special iTravel award of Lanificio Cerruti to tailor Vincenzo Cuomo of Sartoria Cuomo from Naples for the best interpretation of unique features of this amazing cloth, exclusively created by Lanificio Cerruti.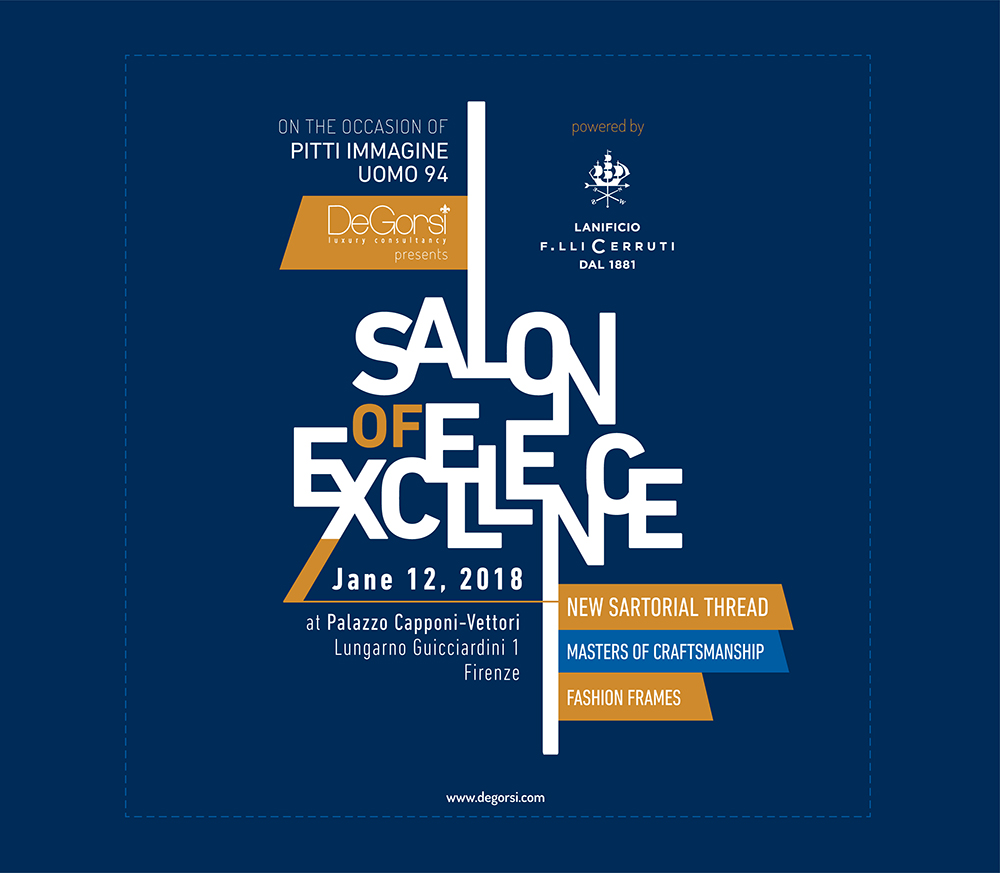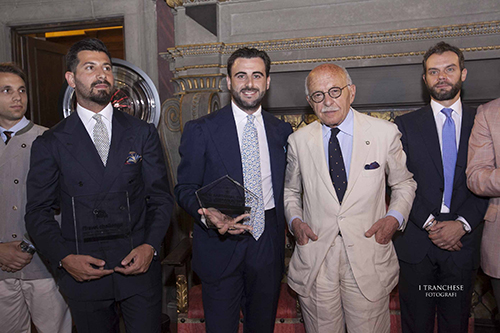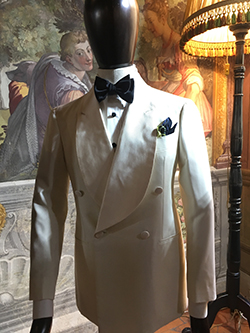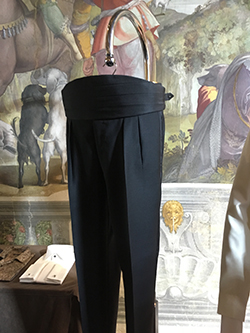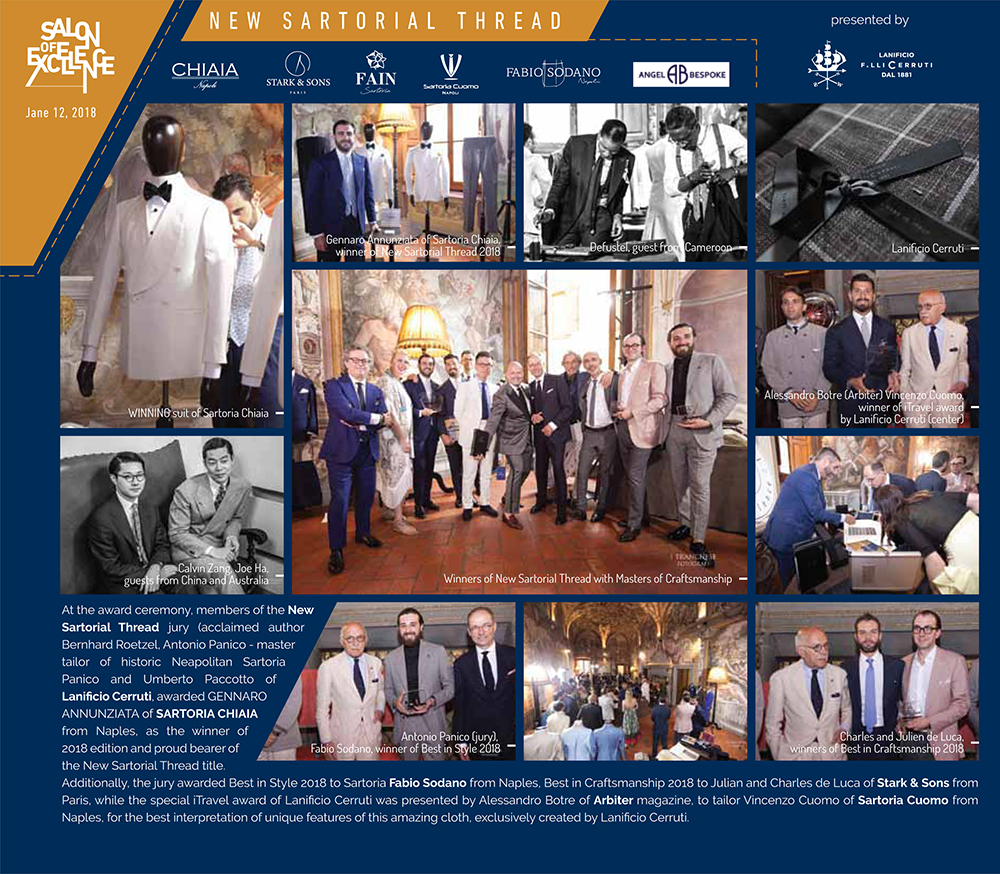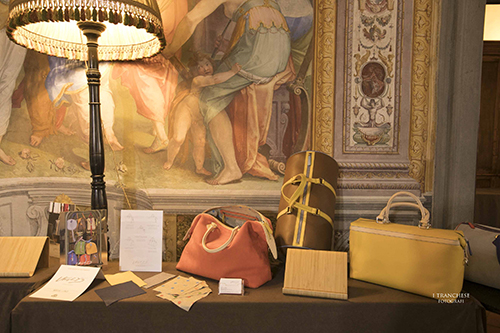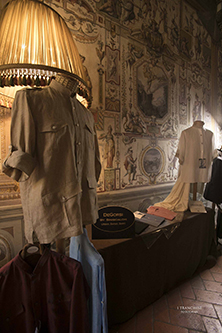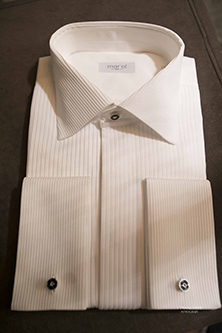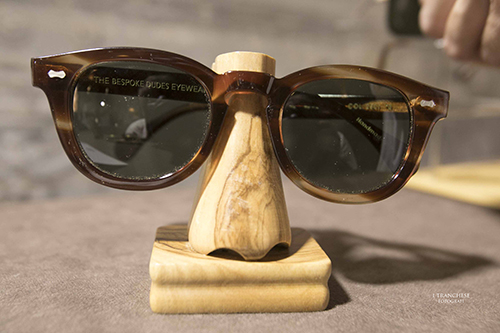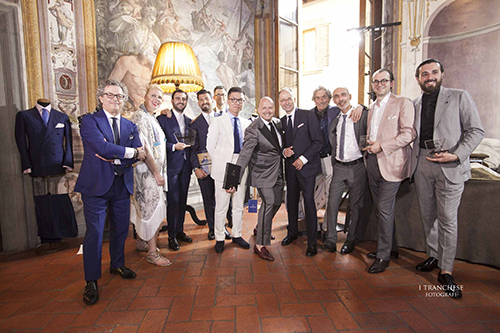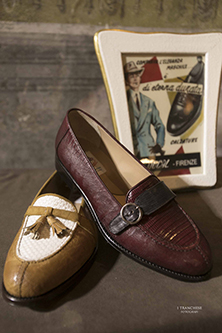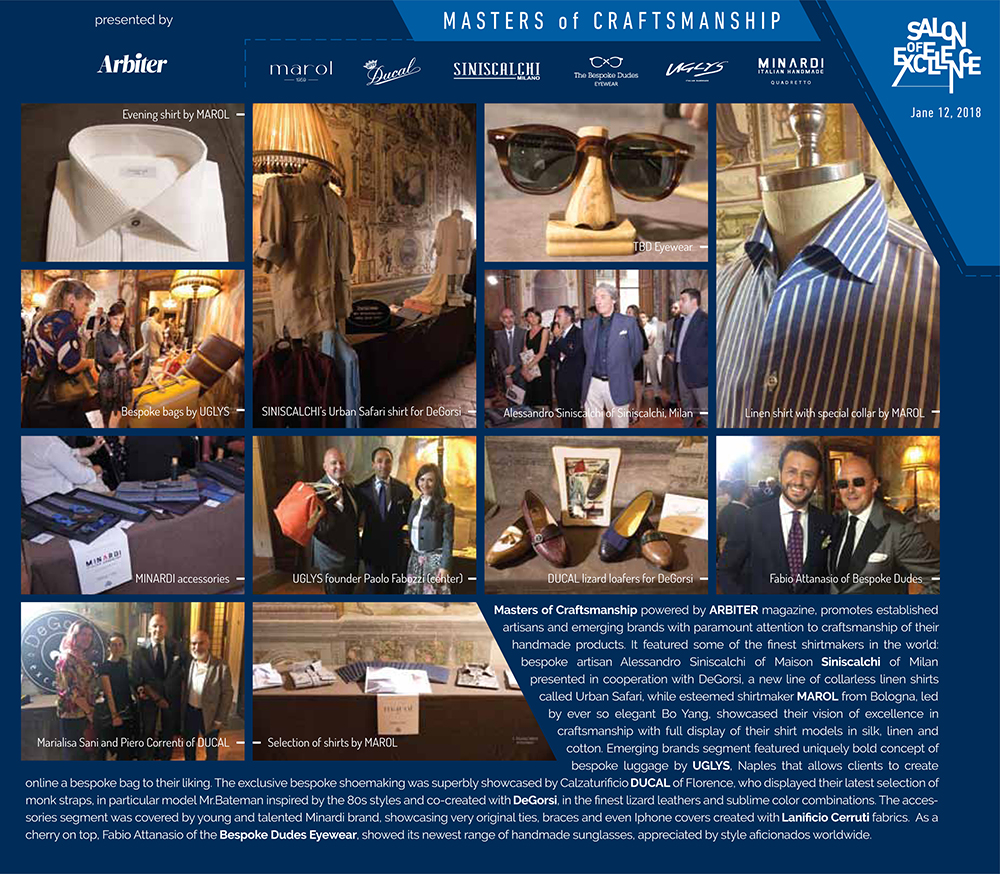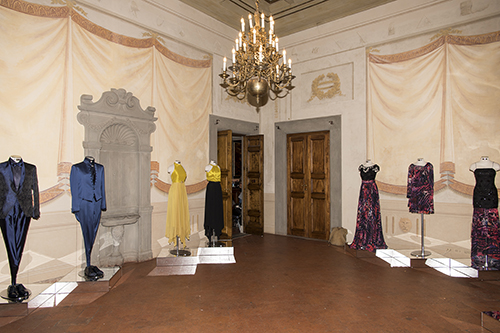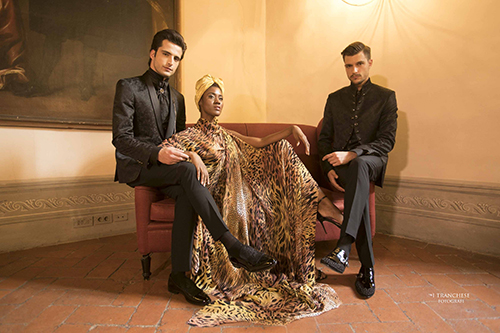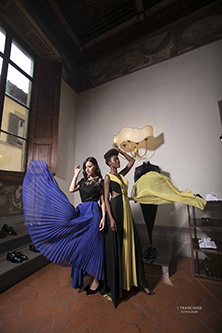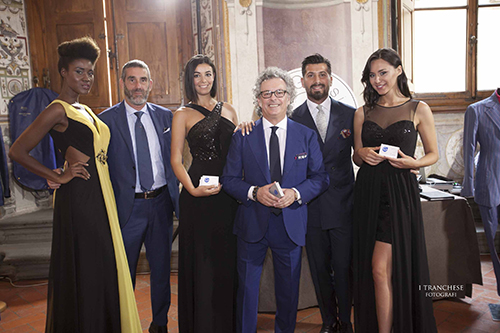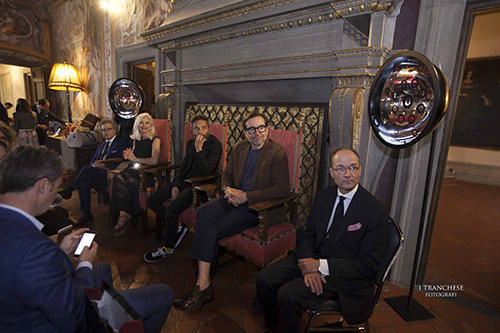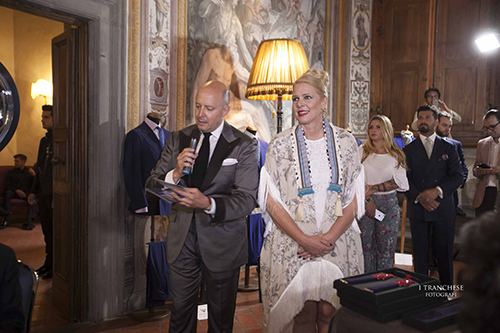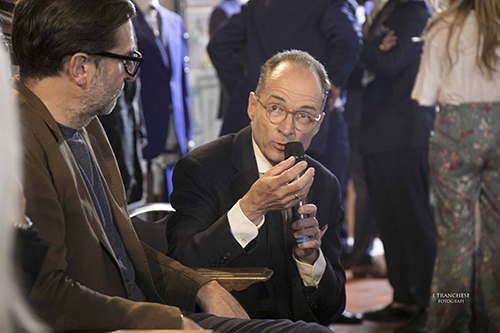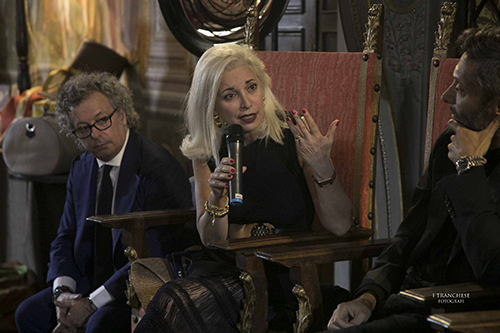 Salon of Excellence,  June 12th, 2018 as of 6 pm - 10 pm, Palazzo Capponi Vettori, Lungarno Guicciardini 1, Florence
Following the success of previous editions during Pitti Uomo, now already renowned Salon of Excellence is taking the stage once again on June 12th, 2018 as of 6 pm - 10 pm, at the mesmerizingly beautiful setting of the Palazzo Capponi Vettori at the heart of Florence. But this time with special award ceremony of NEW SARTORIAL THREAD, a competition for the finest young tailors in the world, powered by Lanificio Cerruti, among other highlights.

This unique happening is curated by Alex Dordevic & Cris Egger of DeGorsi Luxury Consulting, in partnership with LANIFICIO CERRUTI, Camera Italiana Buyer Moda and its president Mario dell'Oglio, with the support of Franz Botre and the ARBITER. The concept is to present the culture of excellence through a selection of finest brands, always respecting tradition but with a progressive outlook on the future.The entire event is divided into three segments, focusing elegance for men and women showcasing some of the finest artisans of bespoke tailoring, masters of shoemaking and shirtmaking for gentlemen along ladies couture and jewelry.
On the occasion of this edition, DeGorsi Luxury consulting and Lanificio F.lli Cerruti will stage an AWARD CEREMONY of the New Sartorial Thread 2018 - GLOBAL initiative aimed at presenting and promoting the young artisans in the sartorial field. Each participant will< present their handmade masterpieces for the next season using Cerruti fabrics.< Competing for the New Sartorial Thread cup, Best in Style and Best in Craftsmanship categories are young bespoke tailoring masters: Gennaro Annunziata of Sartoria CHIAIA (Naples, Italy), Angel Ramos of ANGEL Bespoke (New York, USA), Julien and Charles de Luca of STARK& Sons (Paris, France), Fabio Sodano of (Sartoria SODANO), Timothy Fain of Sartoria FAIN (Kiev, Ukraine) and Vincenzo Cuomo of Sartoria CUOMO(Naples, Italy) Lanificio Cerruti will award a special ITravel prize to a tailor who interpreted in the best way Cerruti's famous iTravel line of fabrics.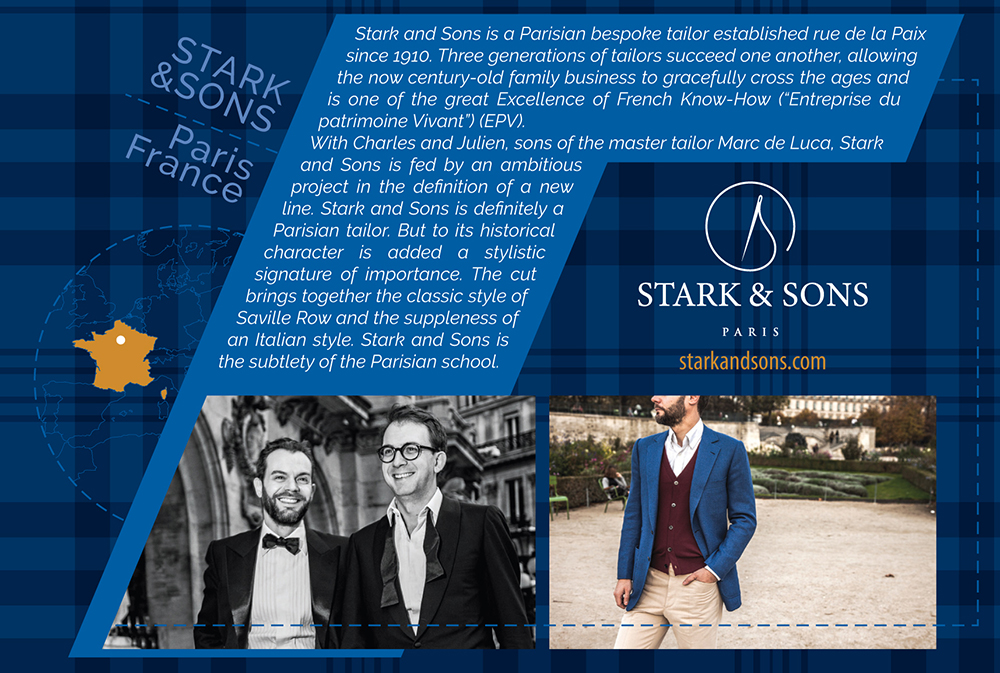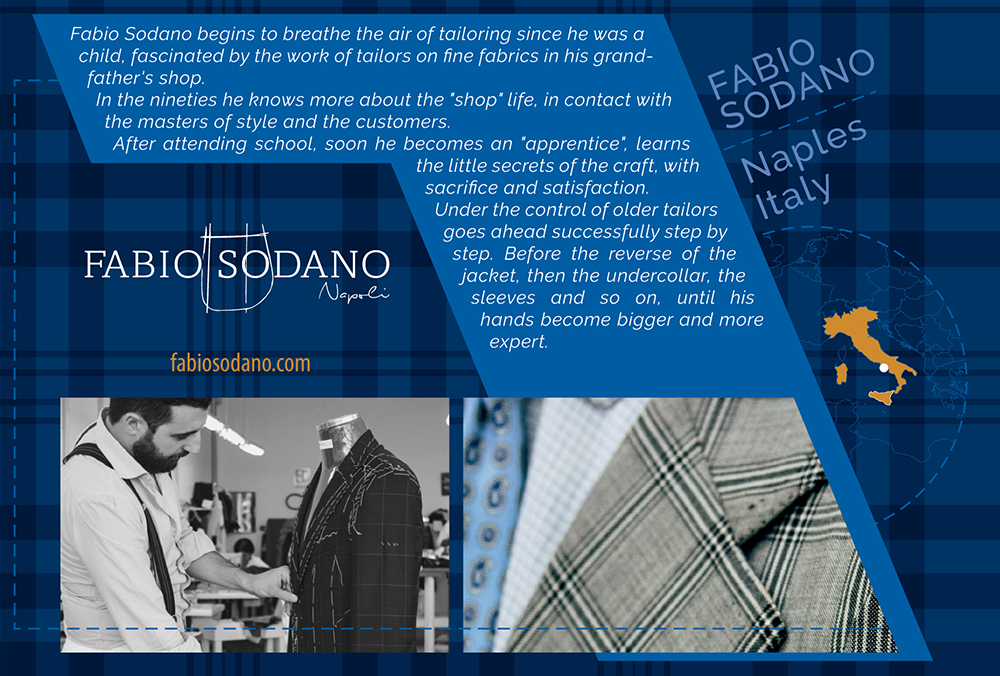 Selecting the winner will be a difficult task for prestigious jury members among whom are famed gentlemen's style author - Bernhard Roetzel, editor of Arbiter magazine - Franz Botre, photographer - Carl Edwin Guerre, master tailor - Carlo Andreacchio of Sartoria A. Caraceni and Umberto Paccotto director of Lanificio Cerruti.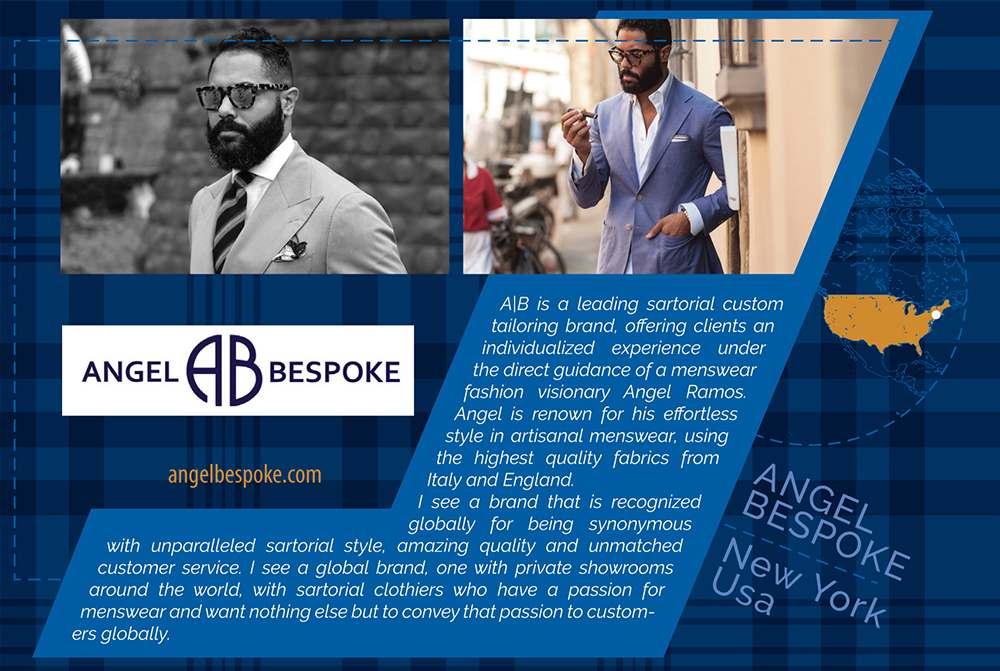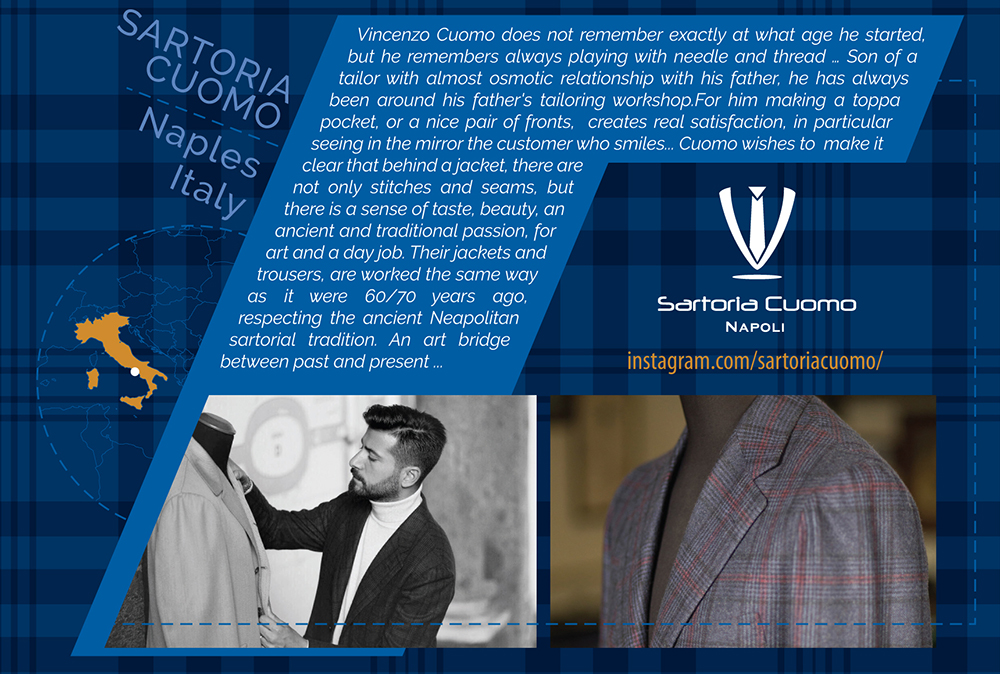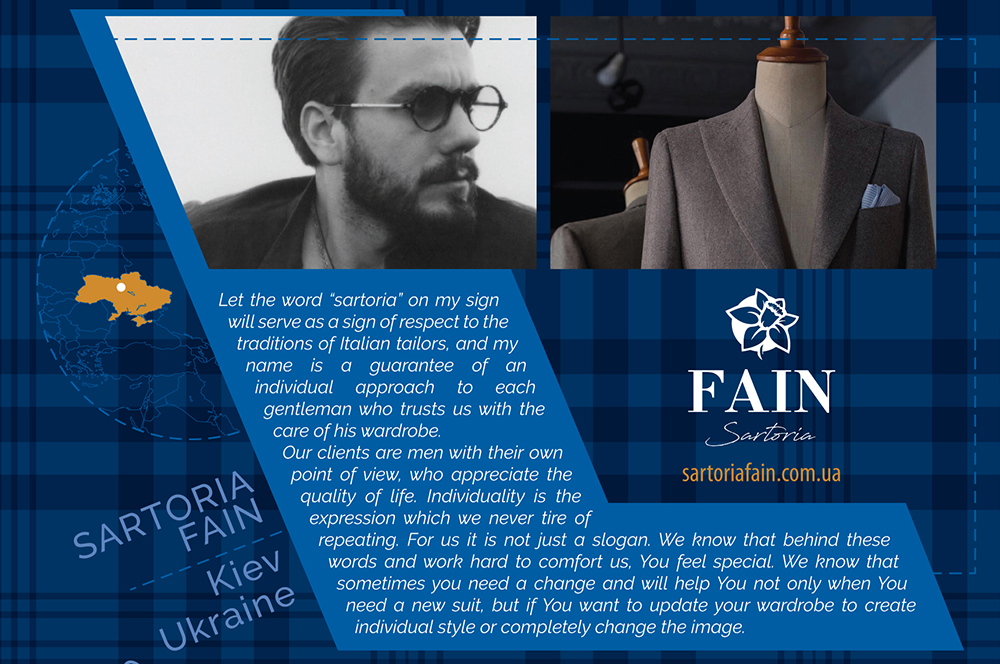 As every year, specially curated selection of Masters of Craftsmanship will be the unique highlight of the event. This year we'll present collections of prestigious shirtmaker MAROL of Bologna and famed shoemakers DUCAL of Florence along with well astablushed bespoke-shirtmakers SINISCALCHI of Milan, along with emerging brand of bespoke luggage UGLYS, MINARDI handmade accessories and much hyped Bespoke Dudes eyewear.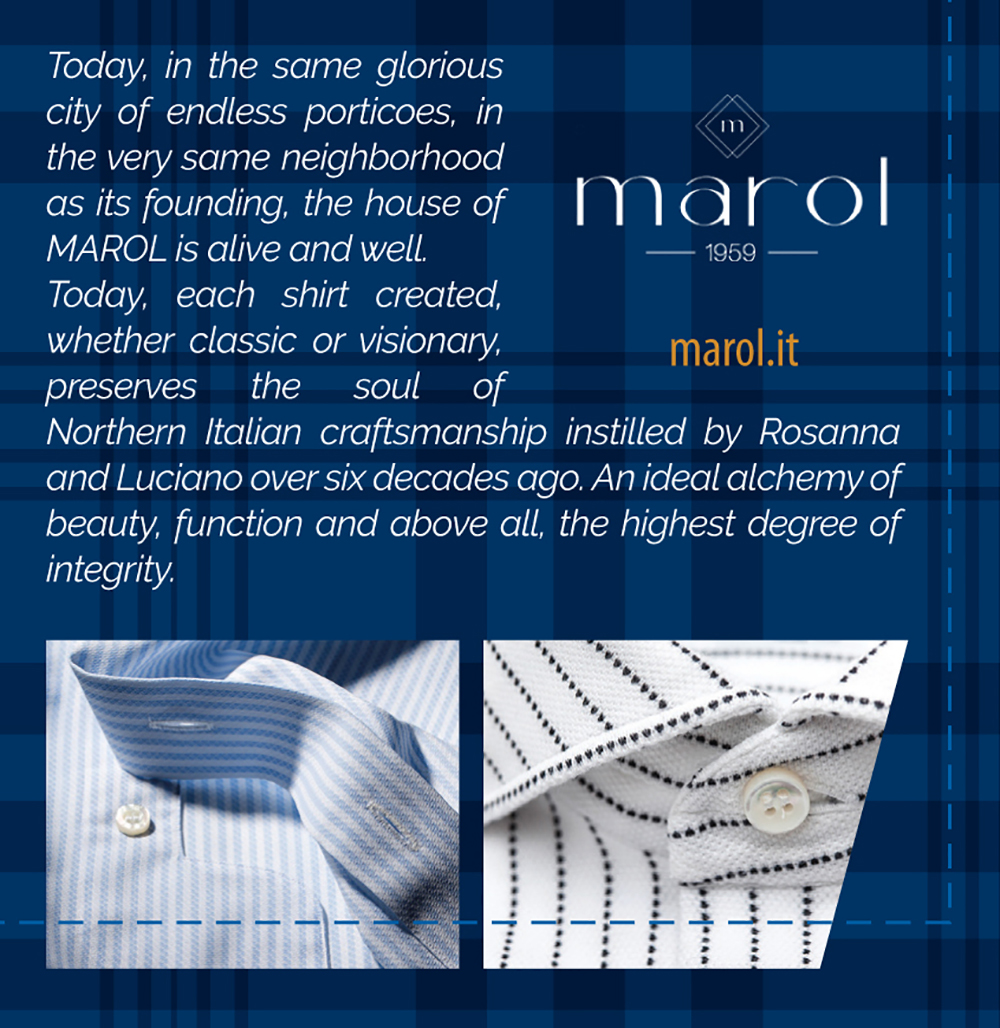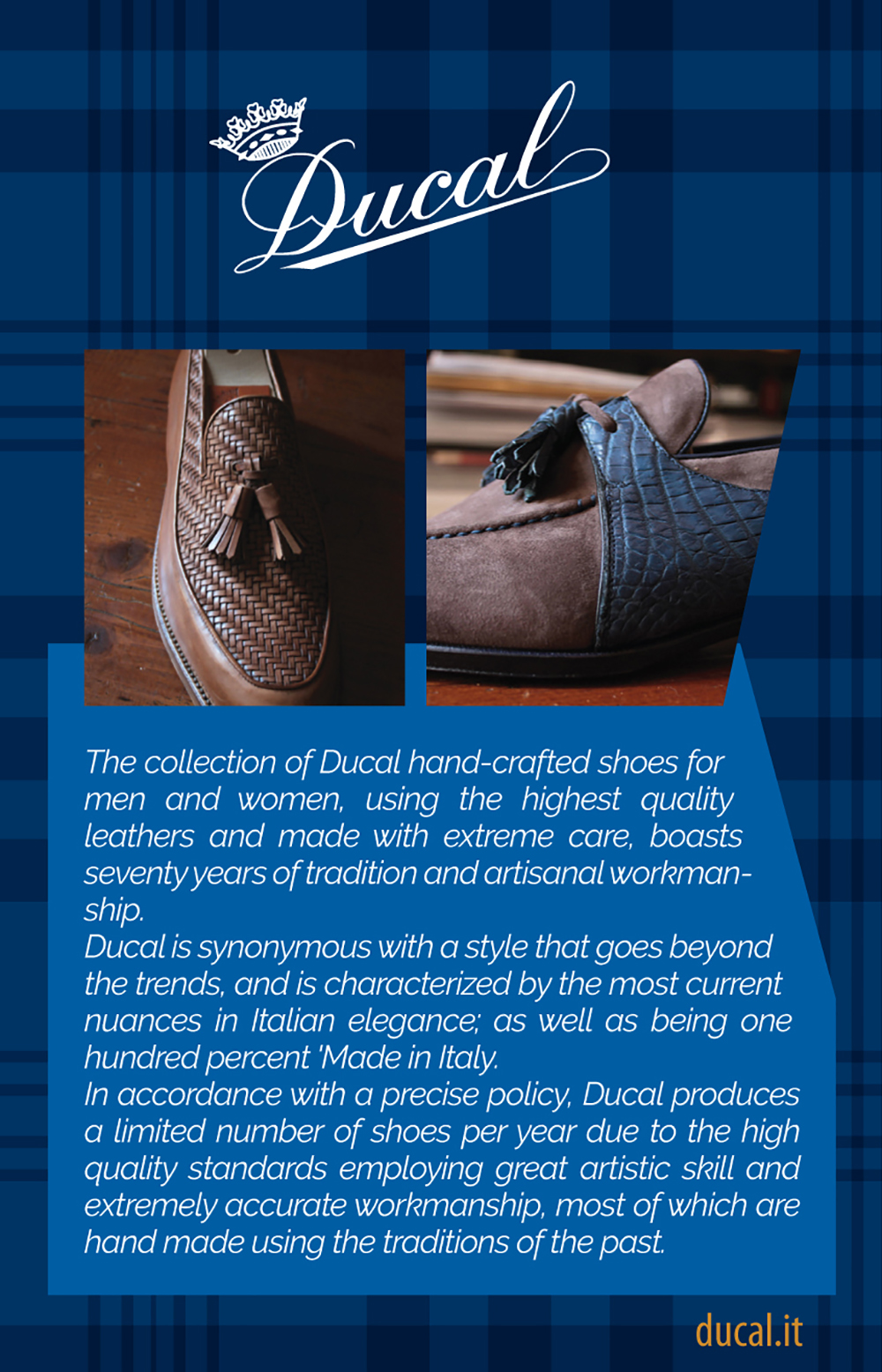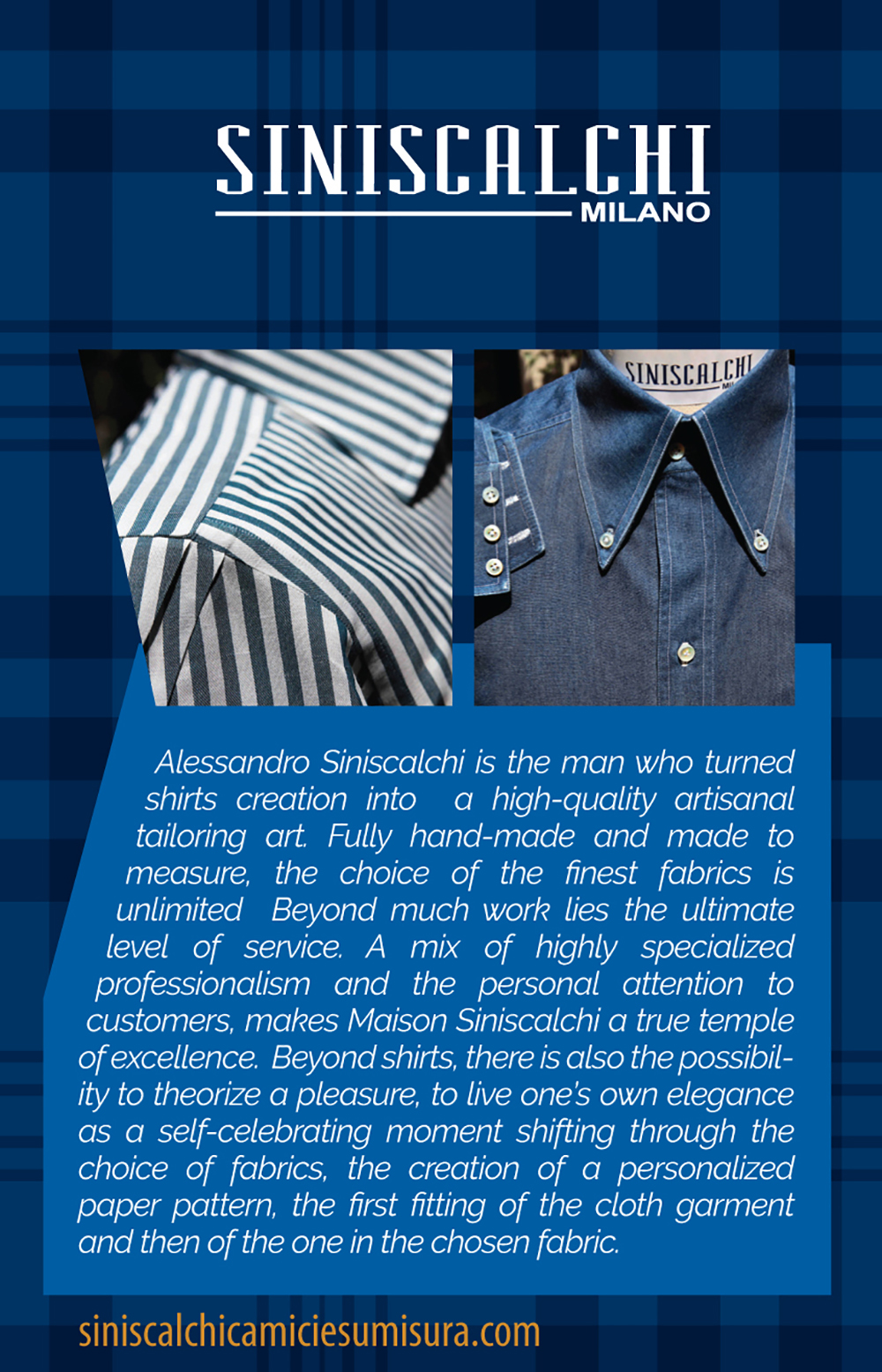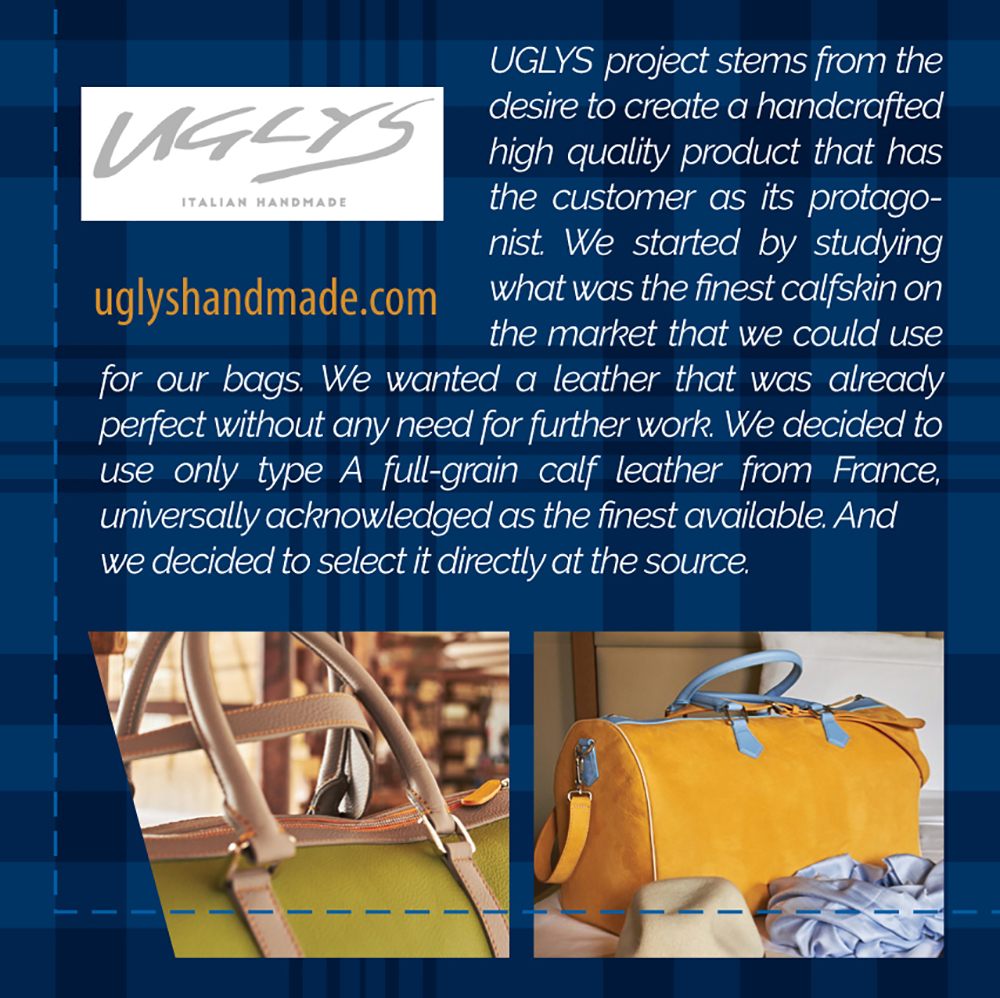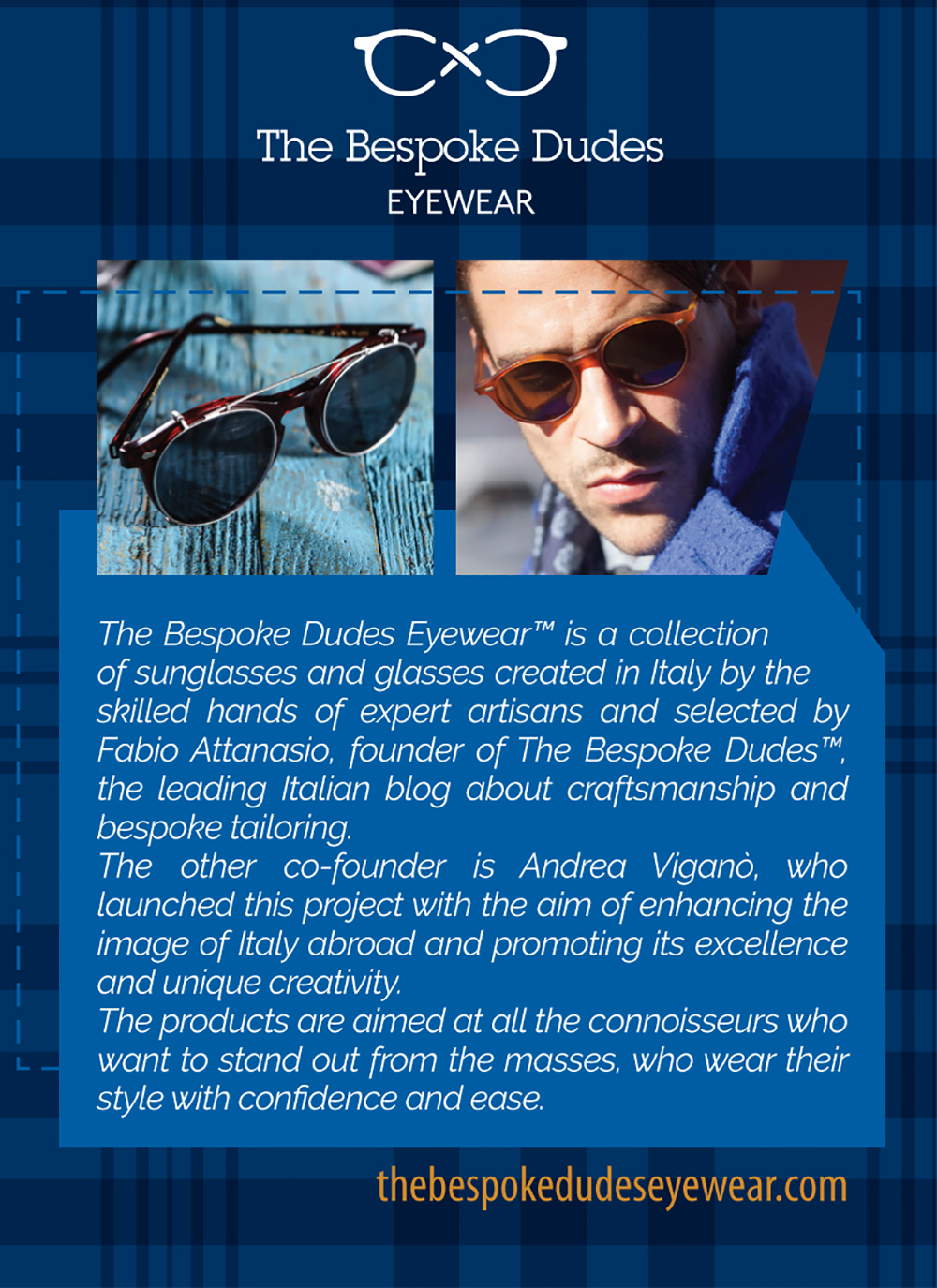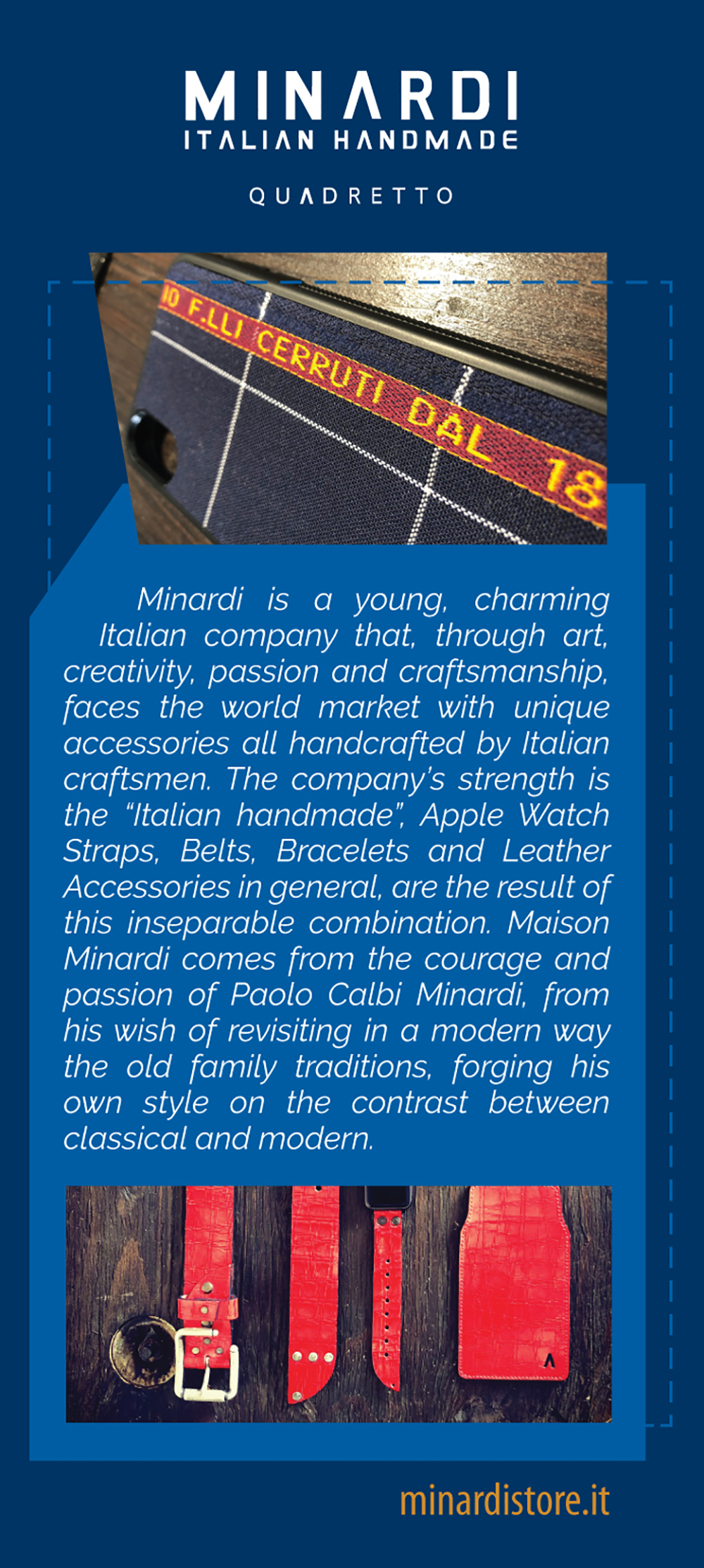 Uniquely for this edition, DeGorsi will present its capsule collection co-created with masters of elegance, where Siniscalchi of Milan produced an exclusive safari linen shirt model Urban Safari, shoemakers Ducal created 80's inspired model Mr.Bateman and Sartoria Chiaia created One Night in Chiaia, bespoke suit for special occasions, all with inimitable DeGorsi panache.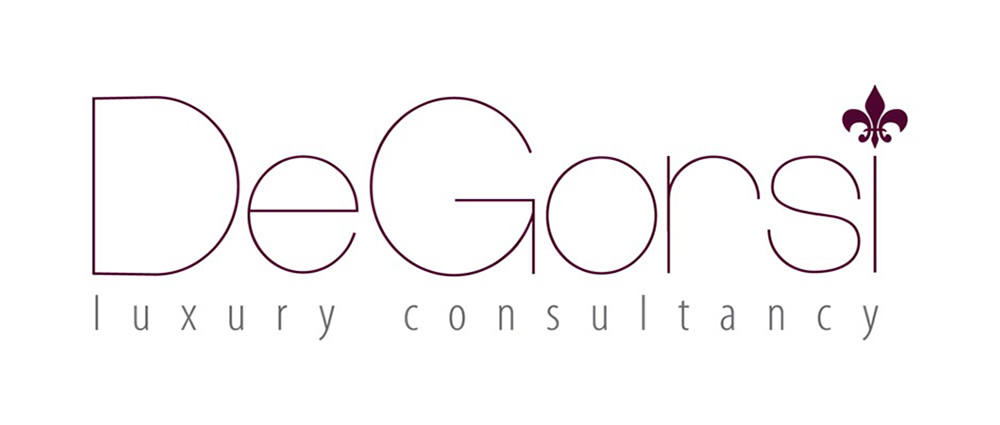 During the Fashion Frames Men segment of the Salon of Excellence, famous designer Carlo Pignatelli will celebrate 50th Anniversary of its career, showcasing the latest bridal elegance both for men and women. The venue is spectacular Sala Poccetti in the magnificent 16th century Palazzo Capponi Vettori, right next to Ponte Santa Trinita in Florence. This space of extraordinary beauty, with magnificent frescoes adorning the walls, provides a magical stage for our prestigious event, reception and gala evening in Florence.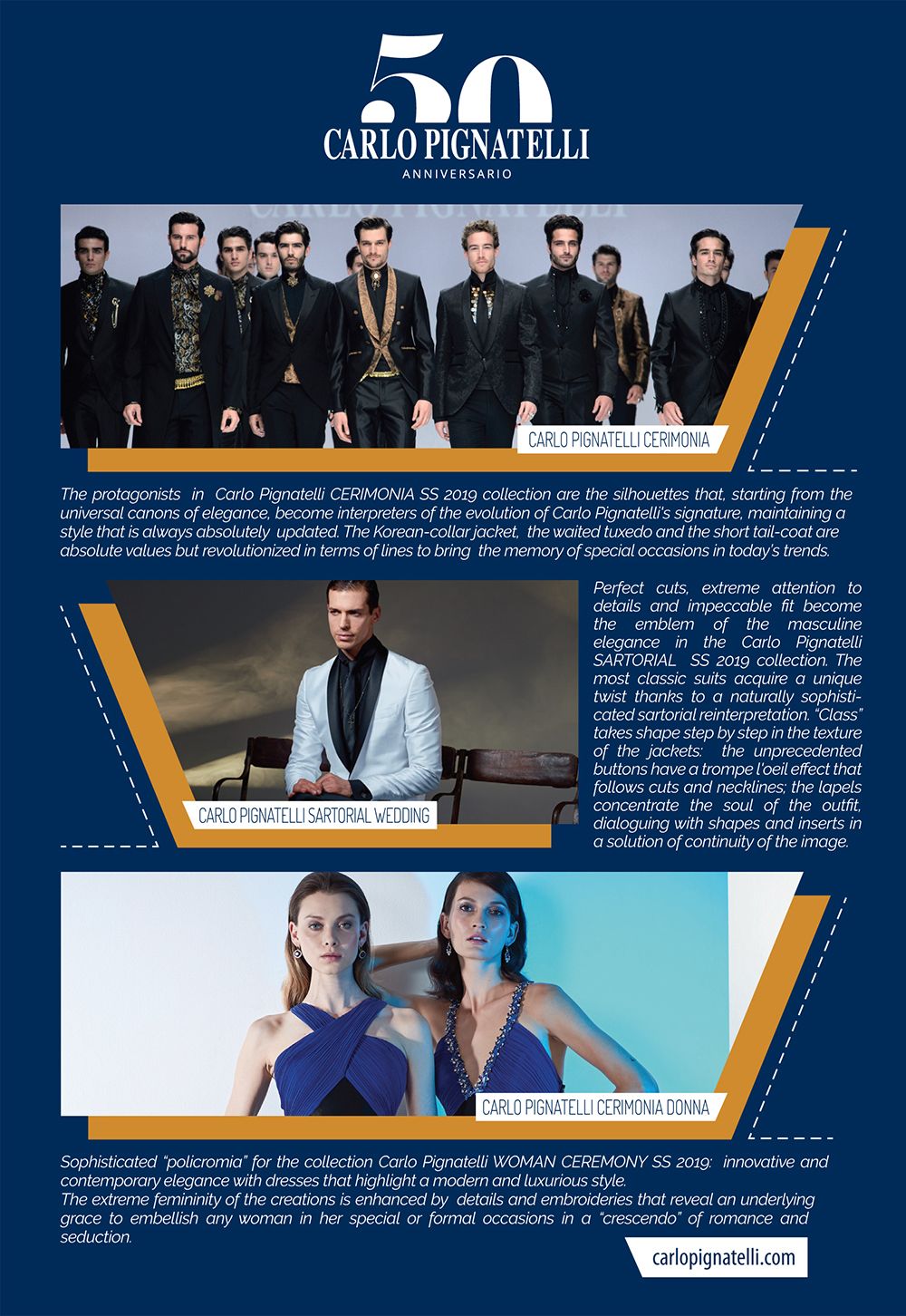 Salon of Excellence - PITTI UOMO - January 9, 2018 - Palazzo Capponi Vettori
Salon of Excellence Conference moderated by Marc Sondermann, editor of Fashion magazine, focused on "BESPOKE TAILORING FACING THE RISE OF E-COMMERCE". Interlocutors were: pre eminent icon of style and fashion business NINO CERRUTI, honorary chairman of Camera italiana Buyer Moda - Beppe Angiolini and renowned fashion buyer Alessandra Danieli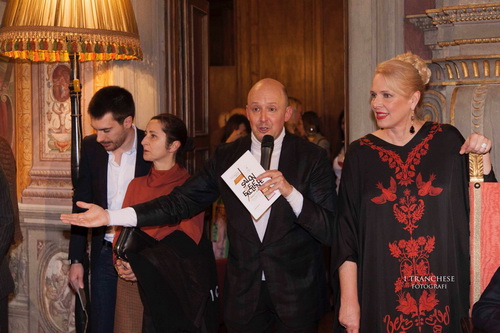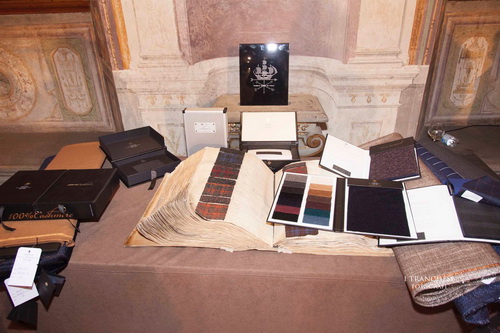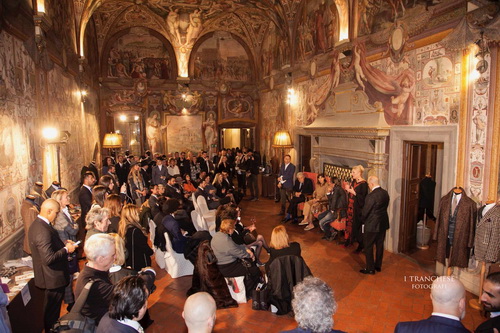 New Sartorial Thread, the global competition for the finest young tailor, presented by Lanificio Cerruti and DeGorsi Luxury Consulting brought together the cream of sartorial talent from around the world. Bespoke tailors competing for the award to be presented in June 2018, are: Angel Bespoke from New York, Sartoria Cuomo from Naples, Sartoria Fain from Kiev, Ukraine, Stark & ​​Sons from Paris, Sartoria Chiaia from Naples, and A. Caraceni from Milan.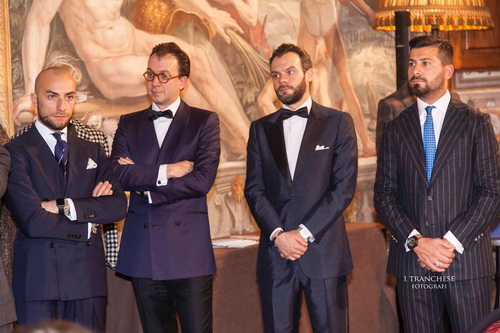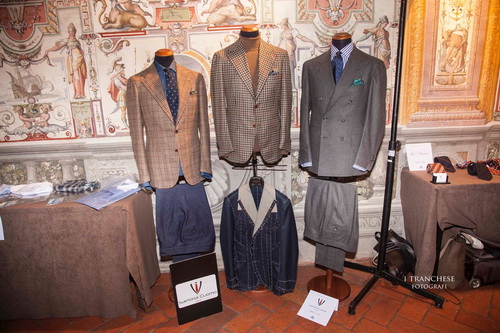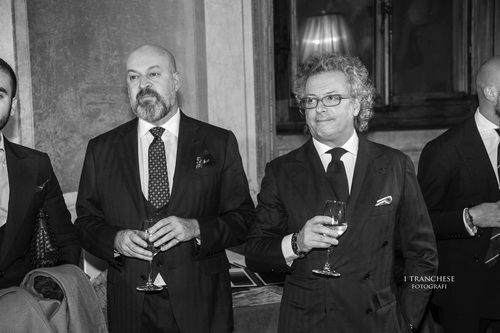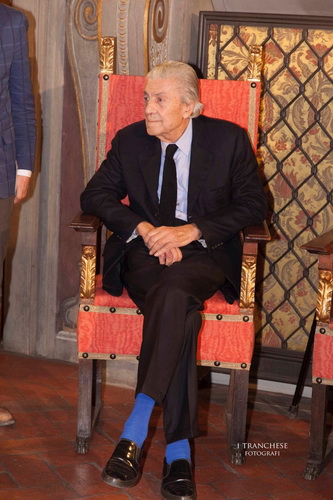 Masters of Craftsmanship, in partnership with Arbiter magazine, whose editor Franz Botre gave an excellent introduction and showcased established masters of bespoke shirt-making, Siniscalchi of Milano, superlative shoemakers of Florence, Calzaturificio Ducal, but as well emerging talents in the accessories segment, tie maker Spacca Neapolis and amazing designer of ultra luxe exotic leather garments and bags, Etienne Heritage.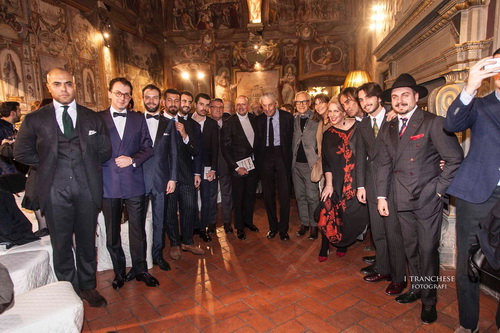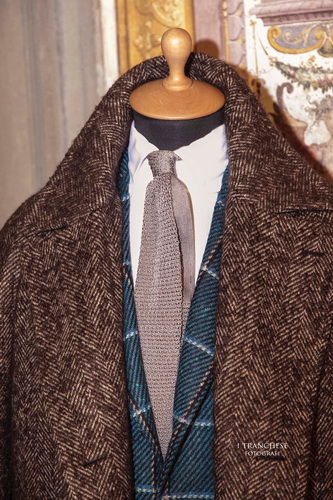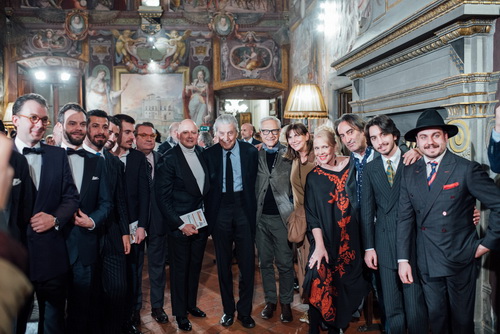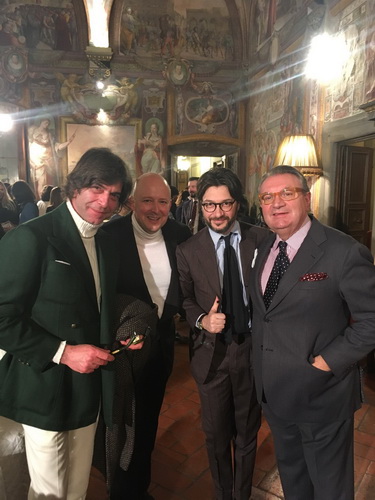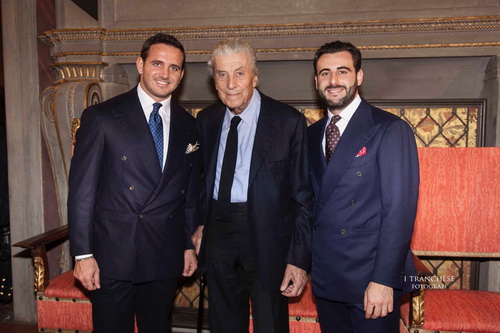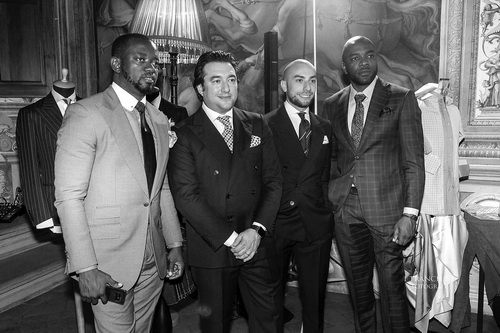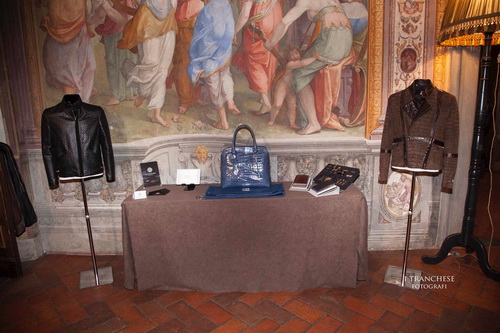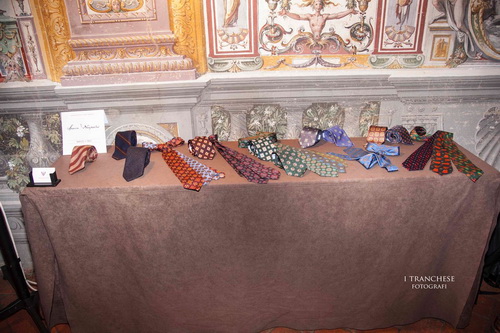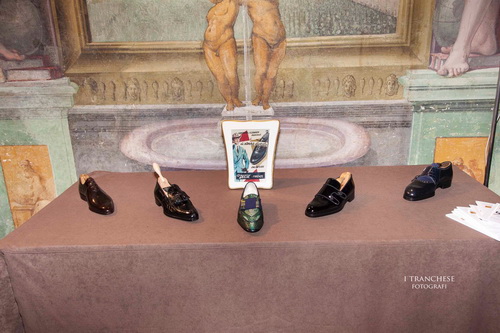 Fashion Frames MEN selection featured CARLO PIGNATELLI, who presented their CERIMONIA collection, while Fashion Frames WOMEN, hosted new talents of the Italian fashion panorama: Berg Jewels (artisanal jewels), Alef (bags and leather goods), O 'Jour (luxury shoes by Giorgia Caovilla), Steve's (contemporary shoes), and Nadir Maut (women's fashion)