SALON OF EXCELLENCE & Fashion Frames
VII EDITION
FLORENCE - 91st PITTI UOMO
January 10, 2017
PALAZZO CAPPONI - VETTORI, Lungarno Guicciardini 1, Florence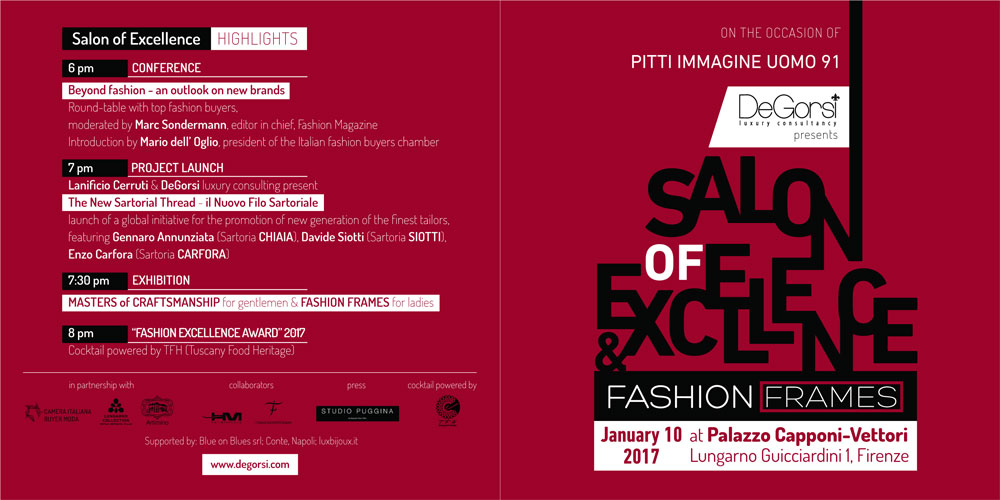 Eagerly awaited by many insiders, "Salon of Excellence" will take place at the spectacular Palazzo Capponi Vettori on January 10 during the ninety-first edition of Pitti Immagine Uomo. Event partners are Lanificio Cerruti and the Italian Chamber of Fashion Buyers
This year, DeGorsi luxury consulting (www.degorsi.com) as the organizer, proposes two dimensions in one event: "Salon of Excellence", enhanced by two initiatives, New Sartorial Thread & Masters of Craftsmanship, created to promote the new talents of Bespoke tailoring & craftsmanship, that emphasize the importance of heritage and traditional approach, and ,under the segment "Fashion Frames", the "scouting" for new fashion talents of Made in Italy, enhanced by Beyond Fashion - an overview - round table and the Fashion Excellence Award 2017.
"Salon of Excellence" introduces the NEW SARTORIAL THREAD
a global initiative, created in collaboration with Lanificio Cerruti, where new generation of tailoring talents (Gennaro Annunziata, Davide Siotti and Enzo Carfora) will realize unique pieces dedicated to the man who loves bespoke, strictly handmade suits with contemporary edge, exclusively using the Lanificio Cerruti precious fabrics.
Masters of Craftsmanship (a segment of the evening dedicated to gentlemen), will be an exhibition focusing artisanal brands that preserve their hand-made only approach. Participating masters are: historic milanese shoemakers Rivolta , famous bespoke shirt-makers Siniscalchi of Milan along with Sartoria Chiaia, Sartoria Siotti and Sartoria Carfora.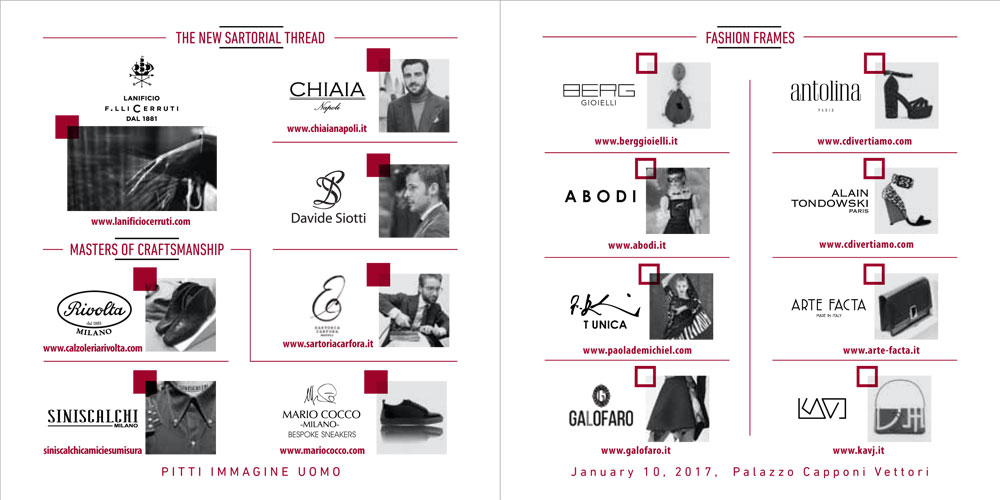 Fashion Frames (a segment of the evening dedicated to ladies)
A section of the event completely dedicated to new designers / brands that have in their DNA an important stylistic research, with a solid structural background that enables the distribution and commercial success.
Brands presented in this edition are concentrated in the product categories related to accessories, handbags, shoes or clothing items that create individualistic total look.
Special part of the evening, organized in partnership with Camera Italiana buyer moda, is Beyond Fashion - an overview, a round table conference of top Fashion buyers, discussing the future of new fashion brands. They will present visions on the future of fashion, capacity 'of the new brands and distribution strategies they should adopt to achieve success.
Moderated by Mark Sondermann Director of Fashion Magazine
Speakers include:
Mario Dell'Oglio, President of the Italian Chamber of Buyers
Georgia Pizzi, Harvey Nichols
Claudio Betti, Spinacker Boutique
Andrea Molteni, Store Tessabit Como
Mariela Montiel, designer of Antolina
Farah Nassarpour, Spring Up Showroom
The evening will be culminating with the first edition of
Fashion Excellence Award 2017
For the first time, the organizing committee of "Salon of Excellence-Fashion Frames" will award 'the most' audacious among the participating designers at Fashion Frames according to criteria of creativity and entrepreneurial capacity.
Timeline of the "Salon of Excellence - Fashion Frames"
18:00 Conference "Beyond Fashion - an overview"- round table of fashion buyers
19:00 Presentation of the project NEW SARTORIAL THREAD and Masters of Excellence showcase
19:30 Presentation of Fashion Frames
20:00 "Fashion Excellence Award" in 2017, awards ceremony and cocktail
PRESS: STUDIO PUGGINA, Filippo Bruno di Tornaforte, filippo@studiopuggina.it
HAIR/MAKE UP: HM make up ITALY
PHOTO: I TRANCHESE photography
Their Royal Highnesses Prince Alexander and Princess Katherine hosted the 6th Annual Benefit Luncheon for Lifeline New York at Le Cirque supported by DeGorsi luxury consulting and Lady Cris Egger, October 5, 2016.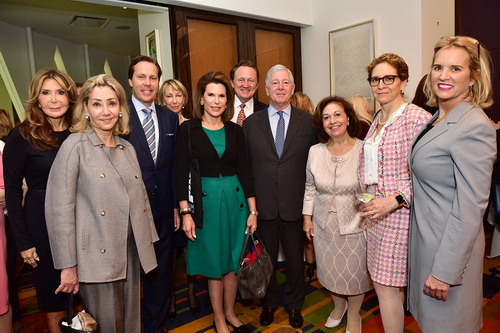 Their Royal Highnesses Crown Prince Alexander and Crown Princess Katherine accompanied by HRH Prince Dimitri of Yugoslavia, and along with Lifeline New York, hosted the 6th Annual Benefit Luncheon to raise funds for pediatric cancer care in Serbia at Le Cirque on Wednesday October 5 with guests including Consul General of Serbia Mrs Mirjana Zivkovic, Lady Lully Gibbons, Ambassador Nancy Brinker, Kerry Kennedy, Ivana Trump, Kelly Bensimon, Dr. Ruth, Countess LuAnn de Lesseps, Jean Shafiroff, Kamie Lightburn, Dale Noelle, Consuelo Vanderbilt Costin,"Tommy" Tune, and Lucia Hwong-Gordon and Lady Cris Egger.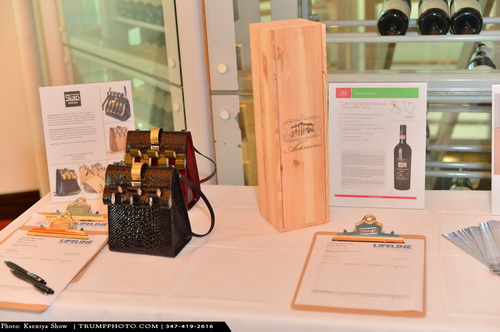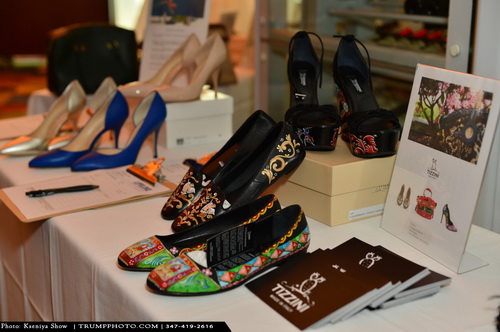 The president of board Mr David Hryck welcomed guests and introduced the Event Chair Cheri Kaufman, who introduced TRH Crown Prince Prince Alexander, Crown Princes Katherine and the balance of the program. Former Mayor of New York Michael Bloomberg congratulated Cheri Kaufman and Lifeline New York on the events success.
HRH Crown Prince Alexander passionately commented on the work that Lifeline New York does in connection with the HRH Crown Princess Katherine Foundation."We can take this opportunity to improve the health and wellness of our future generation. The equipment, expertise and doctor training that my wife's foundation provides to the Serbian medical community have helped so many families. Lifeline New York does not discriminate against cultures or religions but helps all who cannot afford quality medical care."
HRH Crown Princess Katherine addressed guests at the luncheon, and thanked her husband and everyone involved with the Lifeline Foundation. She said, "The people here today give me the strength and energy to carry on. There aren't enough people in the world who are 'good examples' but all the people here are great examples as you could have been anywhere else, but chose to be with me and Lifeline to help save the children and those in need. The support from our community of friends and the Serbian diaspora is so critical. We are so blessed to have their continuous generosity."
Dr. Hedvig Hricak, the chair of the department of Radiology at Memorial Sloan Kettering Cancer Center, was honored for her humanitarian work and contributions to improving health care in Serbia.
Nevena Pavlovic, the permanent principal soloist at the Serbian National Opera Theater, performed the aria from Puccini's La Boheme, to rapturous applause.
Dr. Leslie Lehmann – Global Health Initiative (GHI) Director, spoke about how her, "work with children's hospitals and how dedicated medical professionals are to children. She continued to say, "how much Lifeline New York helps to provide new equipment that can drastically effect the survival rate of children."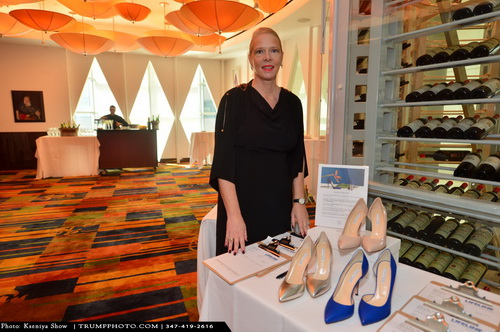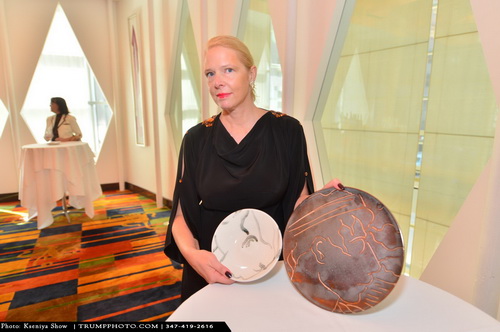 Charity auction was strongly contributed by prestigious partners of DeGorsi luxury consulting. Curated by
Lady Cris Egger, charity exhibition presented some of the most luxurious brands and guests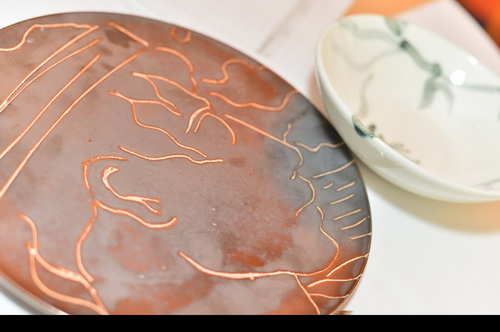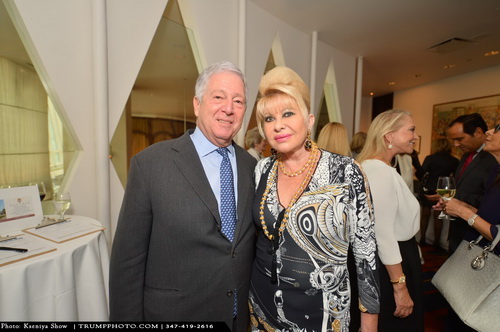 were bidding for unique handmade jewels of Carlo Eleuteri, ladies shoes by Duccio Venturi, fashion garments by famed designer ROKSANDA ILINCIC, gents made to order shoes by famous Milanese shoemakers RIVOLTA , a magnum bottle of prestigious ARTIMINO wine, bags and accessories by TIZZINI, MAG, SKATO and handmade art by Prince Roberto Ruspoli.
Zenith 24 hours of Elegance by Chivas 2016 - MASTERS OF EXCELLENCE opening gala at the Royal Palace, Belgrade, presented by ARBITER, featuring masters of milanese style: A.CARACENI, RIVOLTA, SINISCALCHI and Lanificio F.lli CERRUTI.
Ladies segment curated by Cris Egger, presenting ROXANA PANSINO couture and BONATO 1960 MILANO contemporary jewelry, with live performance of Alessandro Martire, pianist, latest album Flames of Joy.
SALON of EXCELLENCE by DeGorsi, at the Belgrade Waterfront Gallery on September 10, 2016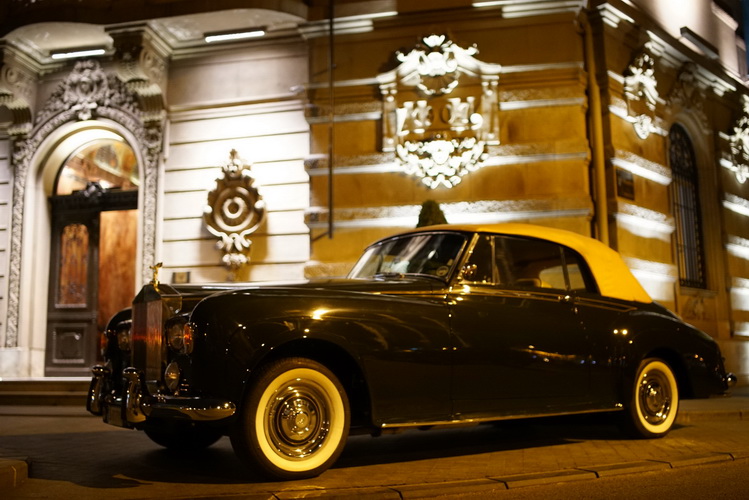 Saturday, September 10, at the beautiful hall of BELGRADE WATERFRONT gallery, was dedicated to the "Salon of Excellence", held in partnership with The Economist and with support of ABSOLUT vodka and LUXLIFE.rs




At the conference and exhibition of superb handmade objects, panelists introduced prestigious Maisons from the entire world, such as: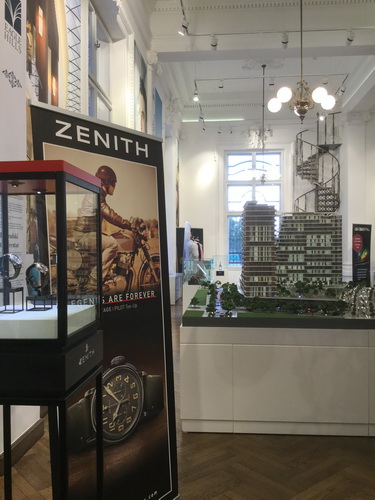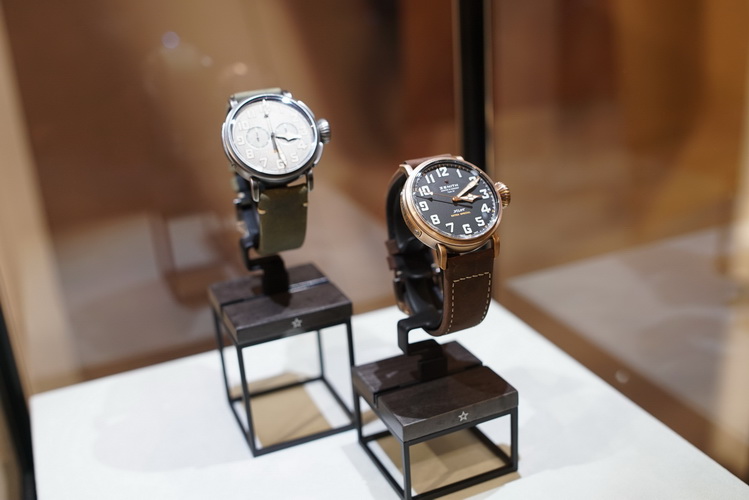 • ZENITH, presented by Paolo Cappiello, Brand Director • zenith-watches.com

ZENITH – exclusive wrist-watches, who celebrated amazing collaboration with COHIBA with El Primero Chronomaster Cohiba edition, and their new models Heritage Pilot Ton-Up and El primero 36'000 vph classic cars
For more than 150 years, Zenith is bringing style and substance to the wrists of sartorially minded men and women. Thanks to its rich heritage, Zenith has become part of an enduring legend. Finely crafted in-house movements, timeless design and pursuit of excellence, Zenith is not doing any compromise to keep the legend alive. This year Zenith has presented 3 iconic new watches that showcase the vintage, craftsmanship and the passion have never been so current and in sync with the future. Hit the road with a legend!
The El primero 36'000 vph classic cars, is a legend among legends. A legendary engine, sleek bodywork and inimitable counters: the new El Primero 36'000 VpH Classic Cars brings all the power and distinction of classic cars to elegant wrists. It eloquently epitomises Zenith's involvement in this world of sophistication and sport, where speed and performance are highlighted by exceptional exteriors. At the heart of its brushed steel case hums a high-precision mechanism: the legendary El Primero chronograph. The ultimate route to timeless elegance! But Zenith decided also to celebrate the 50th anniversary of a Cuban legend: Cohiba with the El Primero Chronomaster Cohiba edition. Both legendary in their own right, Zenith and Cohiba share the same philosophy of excellence, sophistication and exclusivity. The former is a Swiss watchmaking Manufacture building on 150 years of innovation and expertise, while the latter is the celebrated name of the most sought-after cigars in the world. At its side on the occasion of this anniversary, Zenith is presenting a limited series of its legendary El Primero chronograph, with 50 watches in rose gold and 500 in stainless steel, all featuring a Havana brown dial and emblematic Cohiba motifs. And finally, as a symbol of the vintage style riding a free-spirited breeze, The Heritage Pilot Ton-Up refers to the performance (100 mph) of the motorcycles, the humans behind those performance and last but not least, the free-spirited breeze that was animating those young rebels to reach it. The goal of the "Ton-up" boys was to reach 100 miles per hour (160 km/h9, called simply "the ton" in English slang. "Ton-up" was meaning at that time a motorcycle capable of speeds of a hundred miles per hour or more. Getting at 100 mph was not possible with factory standards motorcycles. The automatic El Primero 4069 chronograph calibre – and displays a vintage dial boasting perfect readability.
Zenith remains one of a select group of traditional luxury watch brands to produce all its movements in-house, the industry's ultimate token of quality. Engaged on several vintage territories such as classic cars, Zenith currently offers a collection of exclusive and ageless finely crafted timepieces designed for sartorially minded men and women. Zenith's rich heritage, tradition, passion and pursuit of excellence reflect the legacy of its slogan "Legends are forever".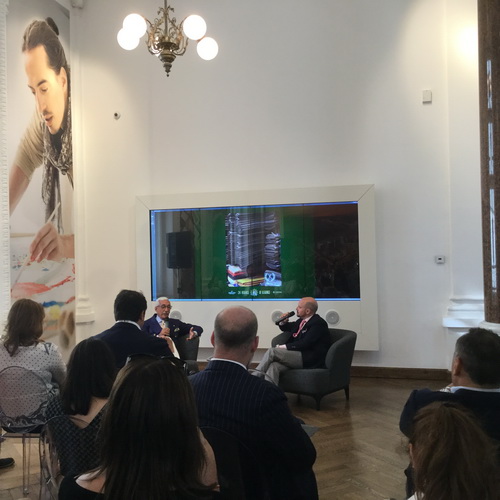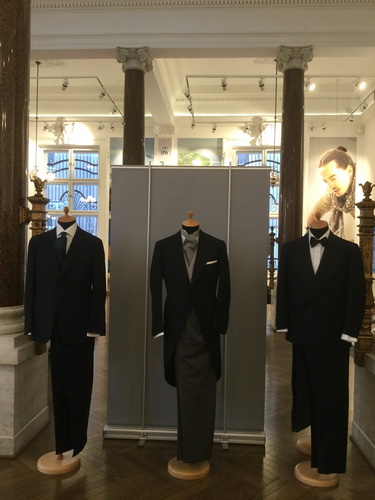 • A.CARACENI, presented by Carlo Andreacchio, master tailor • a-caraceni.com A.CARACENI tailors, masters of bespoke suits – symbols of men's elegance and milanese style whose master tailor Carlo Andreacchio was with us, and shared some of the secrets of their impressive manufacture.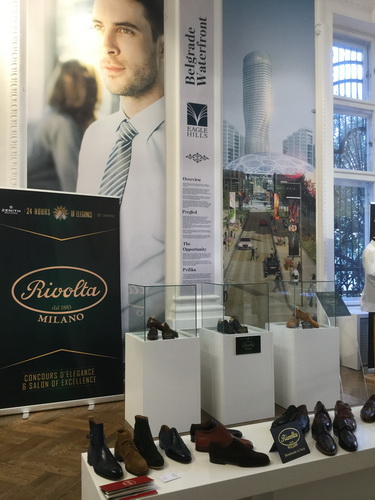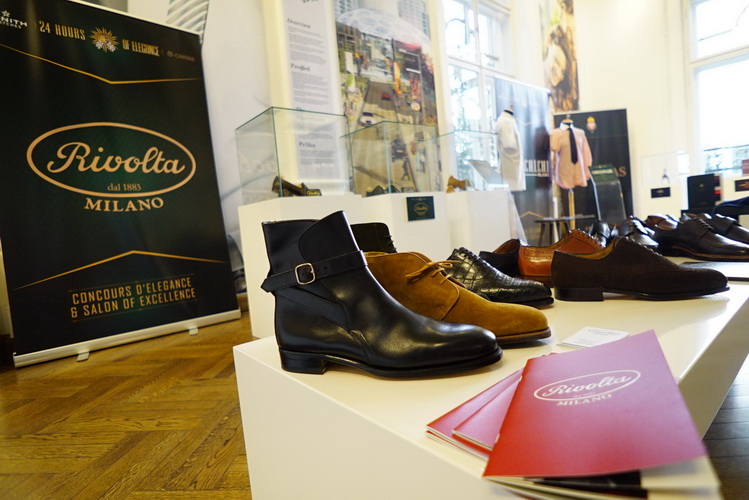 • RIVOLTA, presented by Fabrizio Rivolta, shoemaker • calzoleriarivolta.com
Calzoleria RIVOLTA, a hundred years old milanese shoemakers, was presented by CEO Fabrizio Rivolta, maestro who designs superb men's shoes and successfully couples beauty with functionality.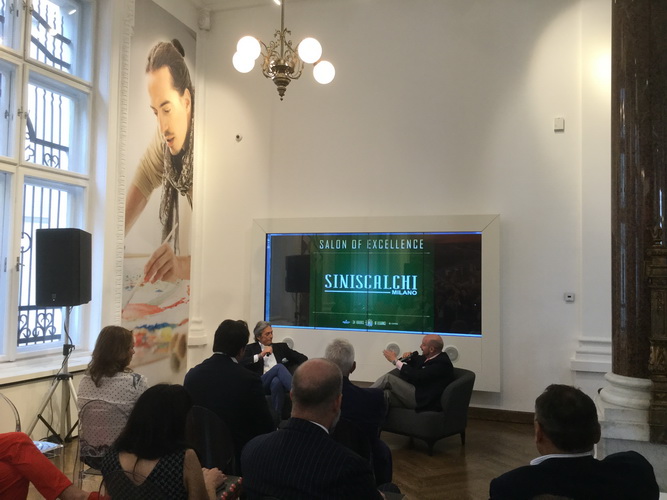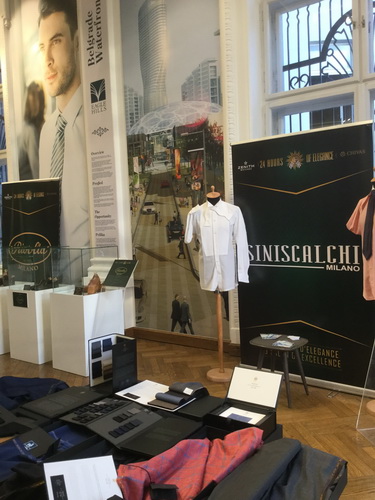 • SINISCALCHI, presented by Alessandro Siniscalchi, master shirtmaker
Special guest was the maestro of luxury handmade shirts, Alessandro SINISCALCHI who presented their most exclusive models.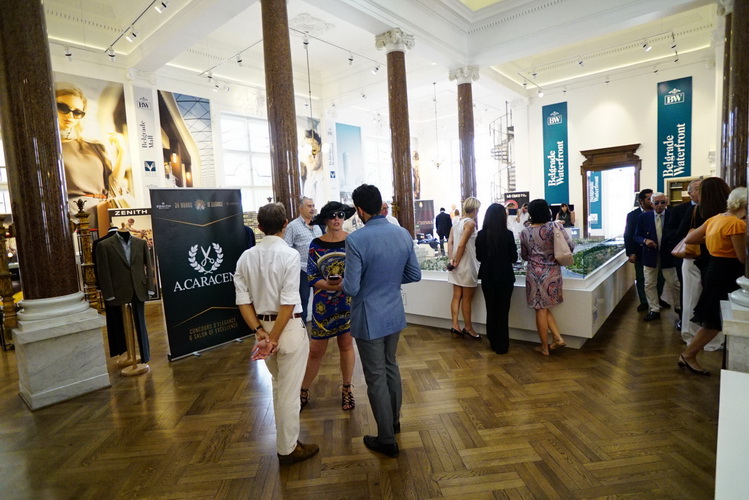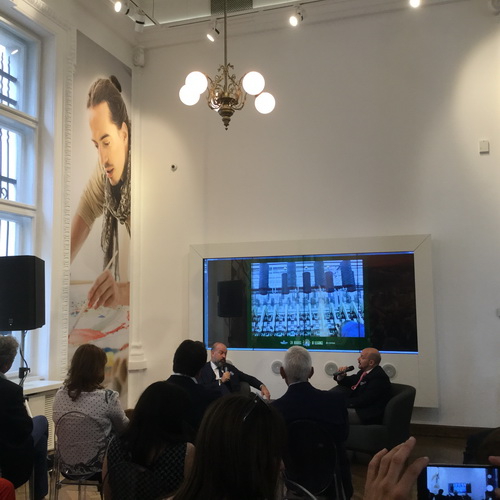 • LANIFICIO F.LLI CERRUTI, presented by Piero Antonini • lanificiocerruti.com
Lanificio F.lli Cerruti presented all its expertise and knowhow in creating superb cloth that is appreciated by numerous designers and tailors around the world.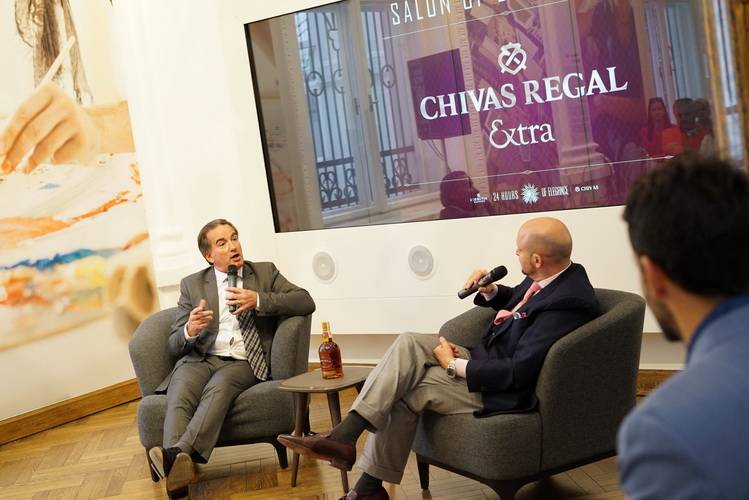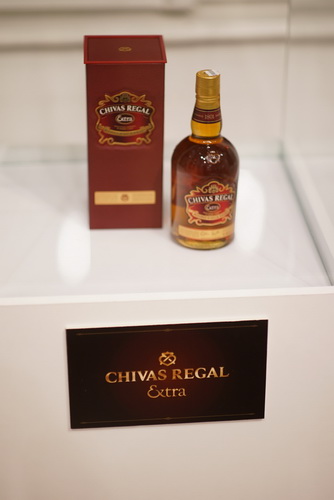 • CHIVAS Extra, by Ken Lindsay, International Brand Ambassador • chivas.com
KEN LINDSAY, CHIVAS International Brand Ambassador, presented the secrets of the latest member of Chivas Regal family - CHIVAS REGAL EXTRA.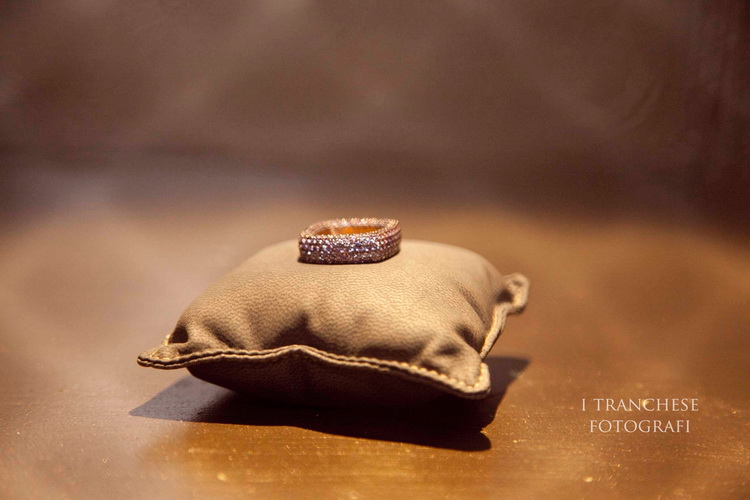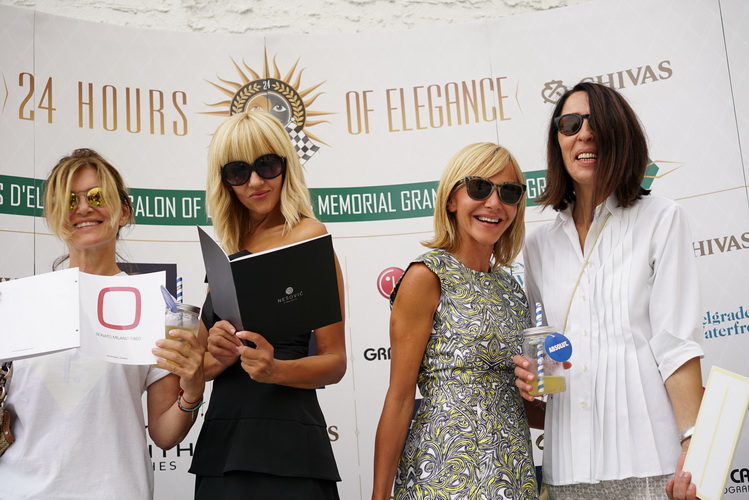 • BONATO MILANO 1960, jewelry by Alessandro Sorgentone • bonatomilano.com
Lastly, ladies segment was covered by beautiful presentation of jewelry by BONATO MILANO 1960.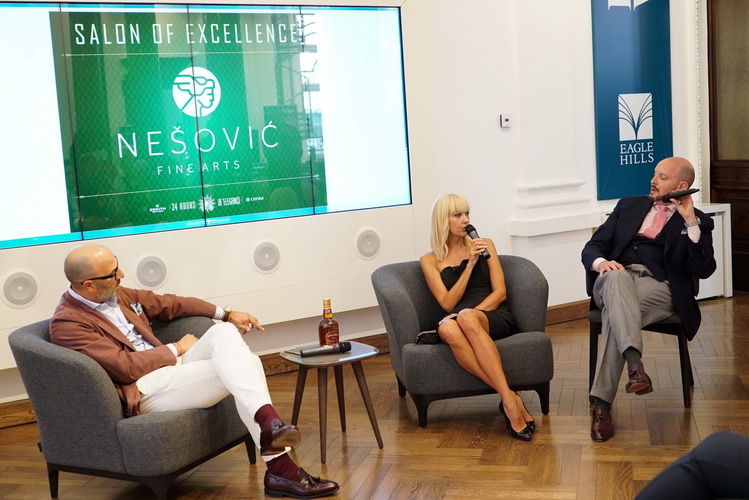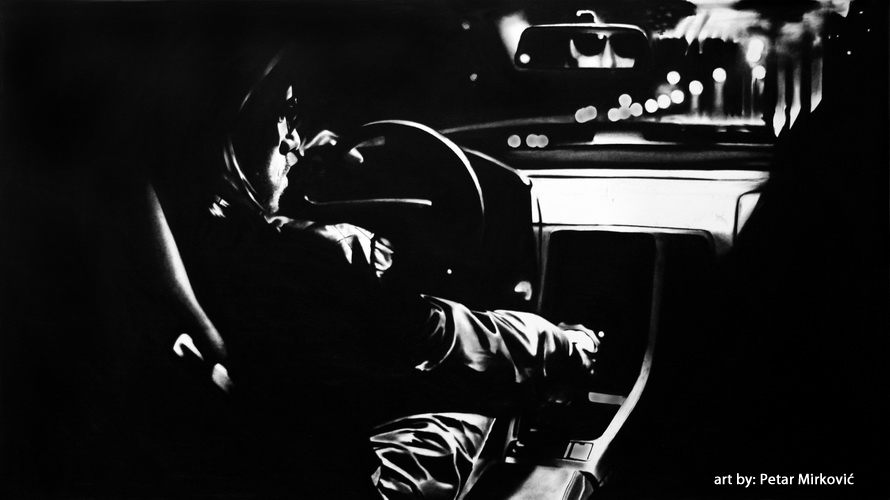 • NESOVIC FINE ARTS presented by Slobodan Nesovic • nesovicfineart.com
Latest addition to our event was the Contemporary Art segment, in cooperation with NESOVIC FINE ARTS gallery, who showed some of the stars of art-world of Southeast Europe hailing from Belgrade.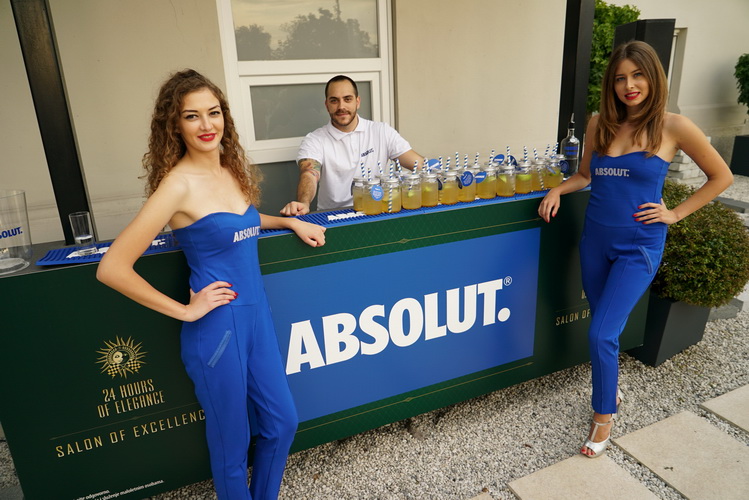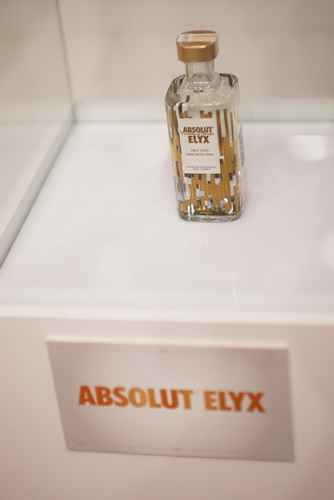 After the exhibition, guests enjoyed the ABSOLUT vodka cocktails and discussed some of the most interesting artworks on display.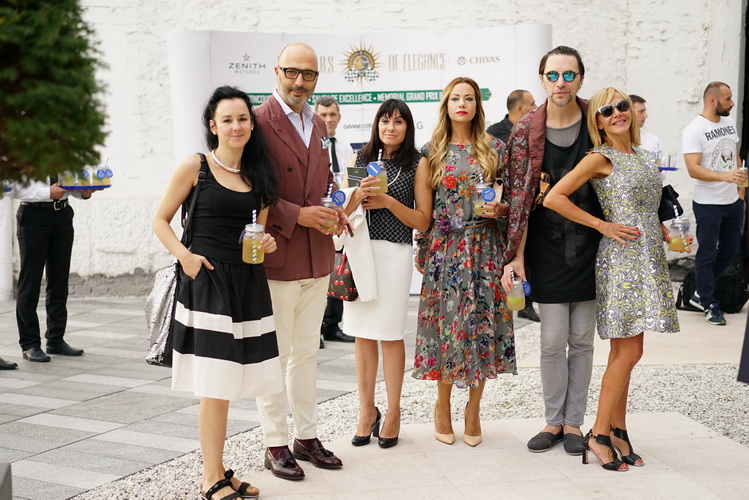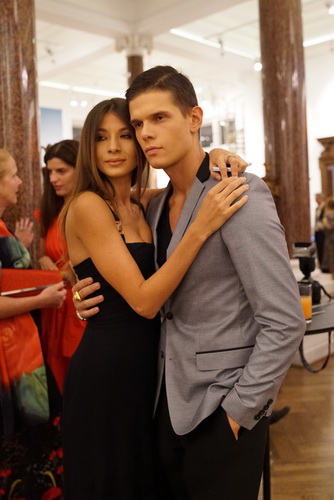 In the evening an exclusive VIP gastronomic event took place, with tasting of Martell cognacs and food pairing, at Belgrade Waterfront. The dinner was hosted by Jean-Jacques Regnault, Martell International Brand Ambassador, who revealed a full refinement of this supreme brand. With a specifically designed menu perfectly paired with different Martell cognacs, this dinner was a real treat for the senses, a true fusion of drinks and cuisine.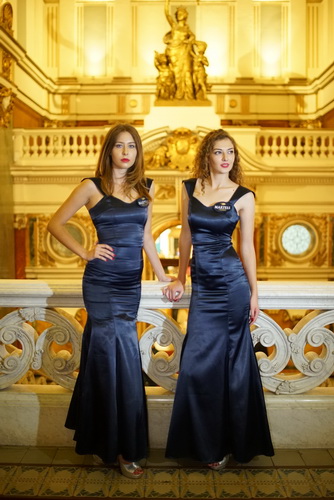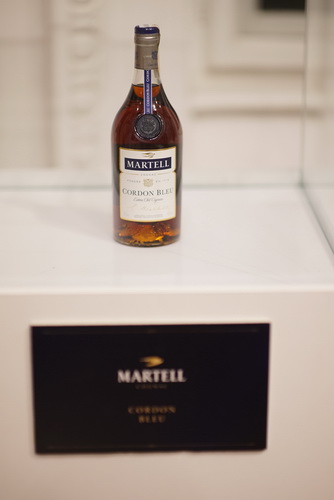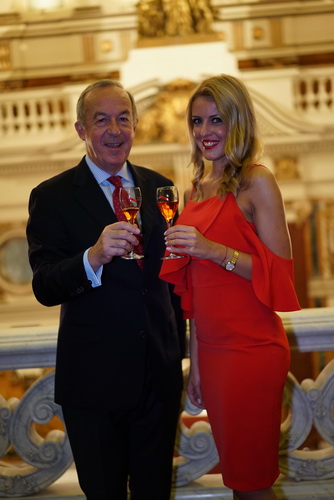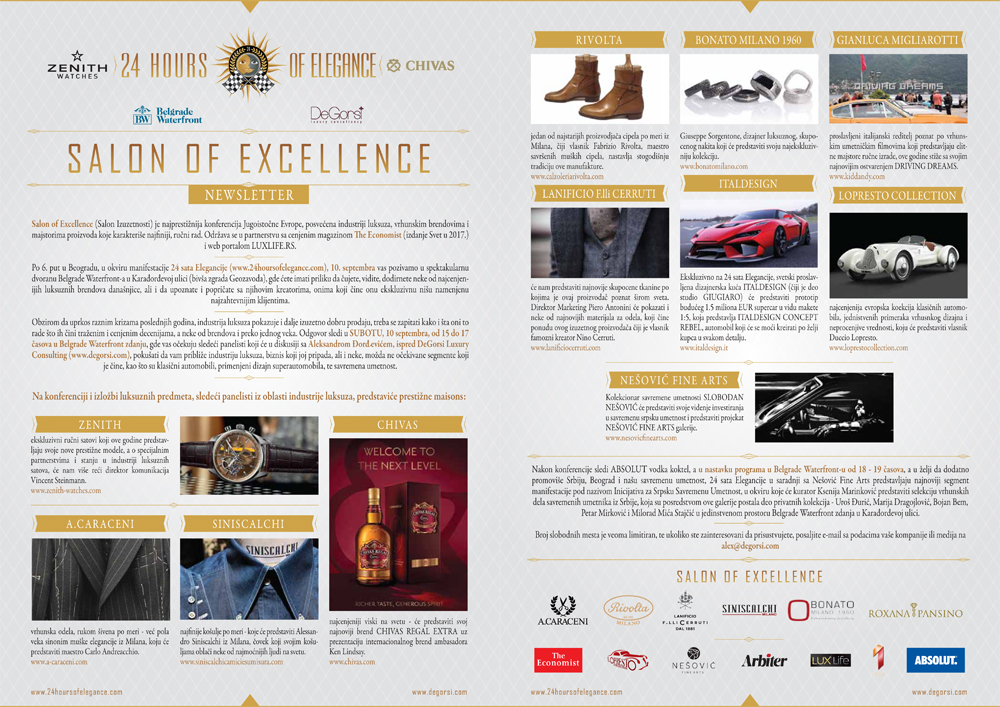 SALON of EXCELLENCE by DeGorsi, at the Belgrade Waterfront Gallery on September 10, 2016 as of 3PM, timeline & participants:
15 00 • Salon of Excellence Conference powered by The Economist, 
at the BELGRADE WATERFRONT headquarters, presenting:
   • A.CARACENI, presented by Carlo Andreacchio, master tailor •
a-caraceni.com
   • SINISCALCHI, presented by Alessandro Siniscalchi, master shirtmaker 
   • GIANLUCA MIGLIAROTTI, acclaimed artistic film director •
kiddandy.com
   • CHIVAS Extra, by Ken Lindsay, International Brand Ambassador •
chivas.com
17 00 • Salon of Excellence Exhibition at the BELGRADE WATERFRONT,
  presenting luxury goods makers, supported by
luxlife.rs
• ABSOLUT VODKA cocktail
18 00 • Belgrade Concours d'Elegance 2016 Best of Show, 
at the GrandCasino, award ceremony, open to the general public
19 00 • The Finest Serbian Contemporary Art initiative by Nesovic Fine Arts, 
curated by Ksenija Marinkovic, vernissage 
at the BELGRADE WATERFRONT
BELGRADE WATERFRONT gallery is situated at the Karadjordjeva 48, Belgrade
Salon of Excellence & Fashion Frames on occassion of 90th PITTI UOMO at splendid Palazzo Capponi Vettori , June 14, 2016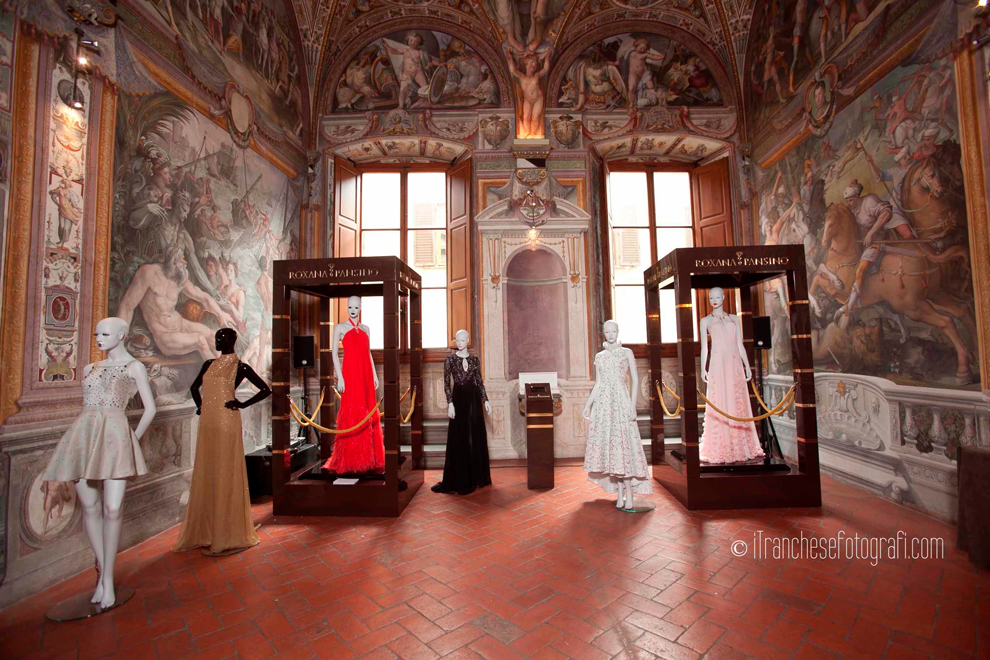 PARTICIPANTS OF SALON OF EXCELLENCE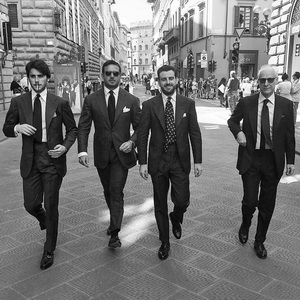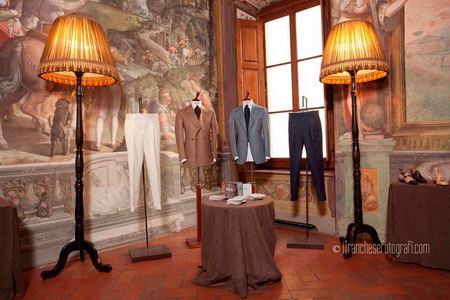 CHIAIA
In the spotlight will be a superb neapolitan tailoring hours CHIAIA, that will be presented by its founder Gennaro Annunziata, who will demonstrate his impeccable taste and daring style of tailored garments. CHIAIA will present a full range of garments, all of whom are meticulously handmade. From finest double breasted suits, poplin shirts and bespoke ties, CHIAIA is ready to fill your wardrobe with the finest items.
www.chiaianapoli.it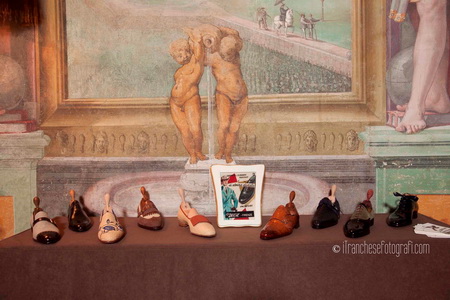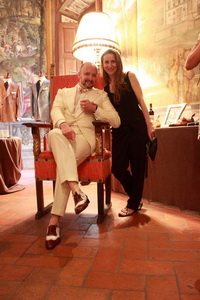 DUCAL
Ducal is synonymous with a style that goes beyond the trends, and is characterized by the most current nuances in Italian elegance; as well as being one hundred percent 'Made in Italy.' In accordance with a precise rm policy, Ducal produces a limited number of shoes per year due to the high quality standards employing great artistic skill and extremely accurate craftsman- ship, most of which are hand made using the traditions of the past. Ducal selects only the highest quality leathers from the nest French and Italian tanneries.
www.ducal.it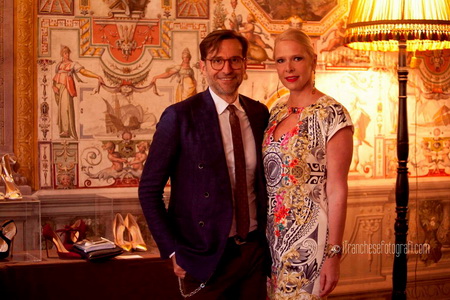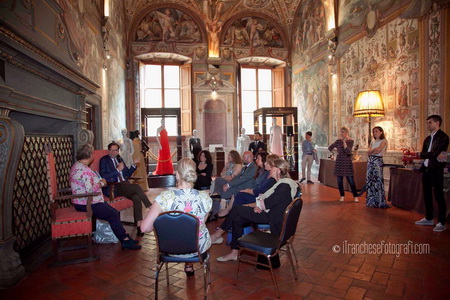 MARIO DELL OGLIO - GENTLEMAN WITHOUT A HAT - book presentation
With strong fashion industry background that has been handed down for four generations, Mario Dell'Oglio delivers to the reader a true gent's elegance manual that slowly  becomes the bearer of complex questions about our own personality that each of us asks every day, even through clothing, the vehicle by which we will present ourselves to the world The book is not just a manual that allows you to disentangle shapes, colors, fabrics, to be chosen carefully depending on the event or relationship that you want to set up but it is also - and above all - a tool to begin to ask questions like " how i want to be perceived " and " what place I want to occupy ". The answers may already be in your wardrobe.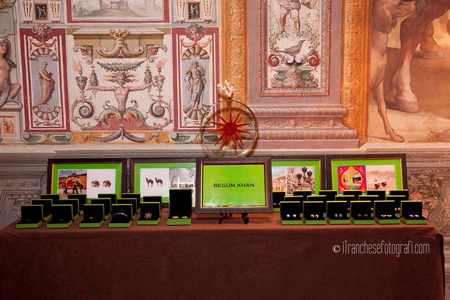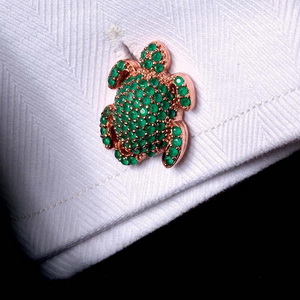 BEGUM KHAN
Modern embodiments of imperial Chinese and Ottoman heritages, the cufflinks are hand- crafted in the heart of Istanbul's Old Town, by Turkish artisans devoted to creating original objets d'art. Combining an appreciation of rare and precious materials, from baroque pearls to indian rose cut emeralds, with decades of artistry, Begüm Khan cufflinks offer the modern dandy a luxurious taste of eccentric sensibility and funky elegance.
More than mere accessories, each enchanting design has a story of its own and a special resonance for the designer.
www.begumkhan.com
PARTICIPANTS OF FASHION FRAMES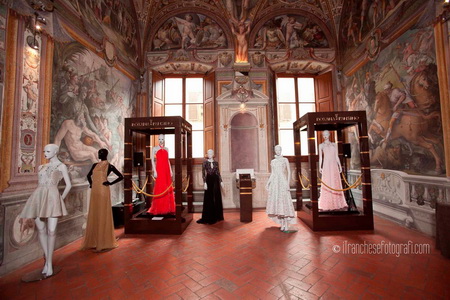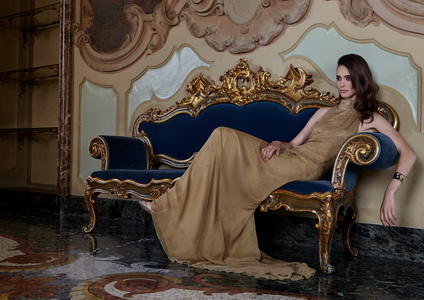 ROXANA PANSINO
Roxana Pansino is a brand founded on the ability to combine couture crafts- manship rigorously Made in Italy and the goldsmith's art, making luxurious evening gowns. Creativity, attention to detail and the search for a top quality fabrics are is the foundation for the creation of their pieces.
The Roxana Pansino dress is encrusted with real jewels, precious stones set in gold and having in mind a woman looking for exclusivity that is  high- lighted by the elegance and sophistication of the wearer.
www.roxanapansino.com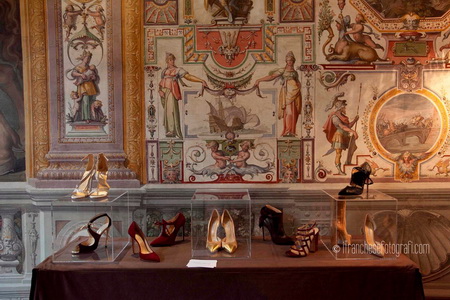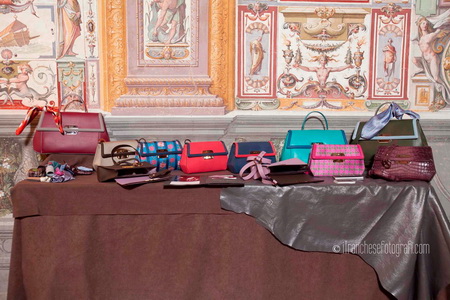 DUCCIO VENTURI
A true Bottier, Duccio Venturi is a master in the world of Italian shoe- making. His story is actually born from a family tradition: both his grandfather and father made footwear.
Duccio Venturi collaborated with famous fashion houses, such as for Jimmy Choo, Chanel, etc. 
Today with his  daughter, they lead and  create under  the brand Duccio Venturi, producing top level designs with great style and attractive price.
www.duccioventuri.com
D'ASY
D'ASY is inspired by the world of art and myth.
Each item is unique and entirely handcrafted in Italy by the most expert artisans who combine traditions with modern technology.
D'ASY designs its products selecting materials such as leather, precious silk and fine quality accessories. Each bag is numbered and accompanied by the authenticity certificate.
www.dasymilano.tumblr.com
ALESSANDRO MARTIRE, pianist and composer
Alessandro Martire, is a young Italian pianist and composer, class of 1992. He studied piano and composition at Music Academy Genoa taking honours and a Master Class with an italian pianist and composer Giusto Franco, as well at the American Music College in Boston, Berklee, in new age composition, performing at the David Friend recital hall. There's no definition for his music. You can call it New Age, classical crossover, contemporary, alternative and other such adjectives but in the end it always comes down to this: Alessandro Martire plays Alessandro Martire music, connecting in an intimate manner with his audience, tapping into their emotions, thoughts and dreams like an old friend.
www.alessandromartire.com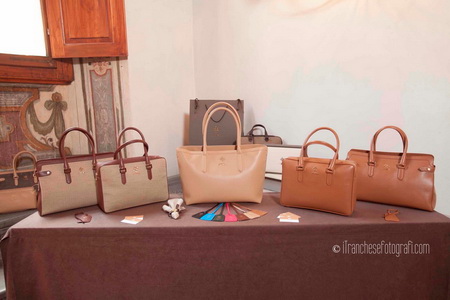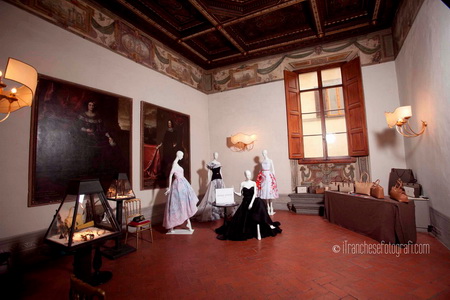 MAG
The great experience they got through several years inside tailoring laboratories and bag shops, the respect of the traditions, the charm of the best leathers and of the fine materials, the obsession for the details, the affection for their roots, hometown and its people , and the courage to chase their dreams… all that has conceived the essence of MAG.
www.mag-italy.com
CHEVALIER
Chevalier Project was born a year ago from a passionate research for a new fashion identity and dynamic self-expression through accessories. Semi-precious stones with their strong vibrant colors, are both inspiration and raw material for the first Chevalier's jewelry line. Peculiarities of Chevalier are: constant evolution in concept and product design, dense web of social media connections and e-commerce, quality of raw materials.
www.chevalierproject.com
PATRIZIA CORVAGLIA
The brand Patrizia Corvaglia was born in 2002 from the idea-intuition-passion Patrizia with the aim to create objects and everyday life companions, expressions of ways of being and communicating.
The jewels of Patrizia Corvaglia are unique creations designed and made one by one on thoughts, materials, each time different individuals constantly changing.
www.patriziacorvaglia.it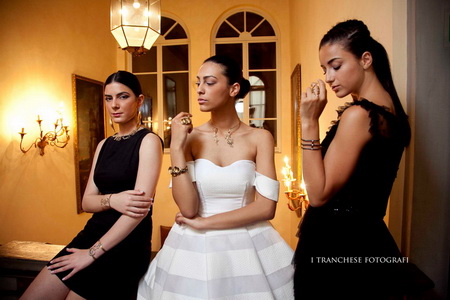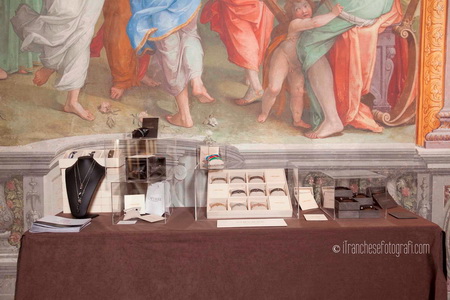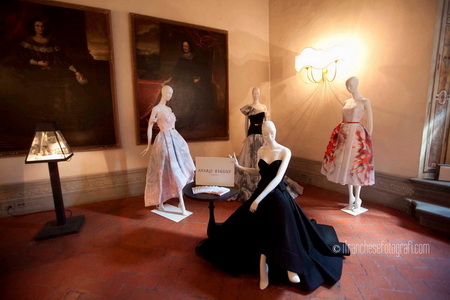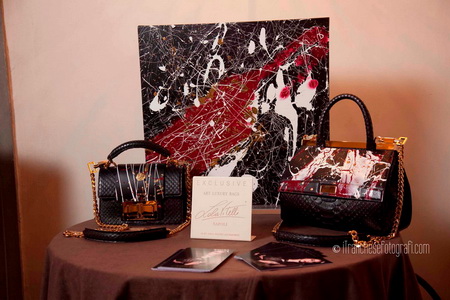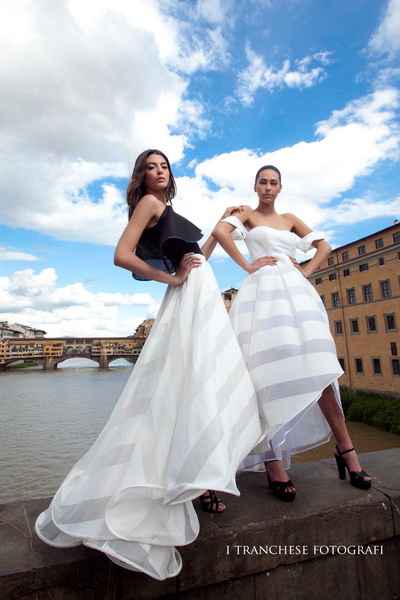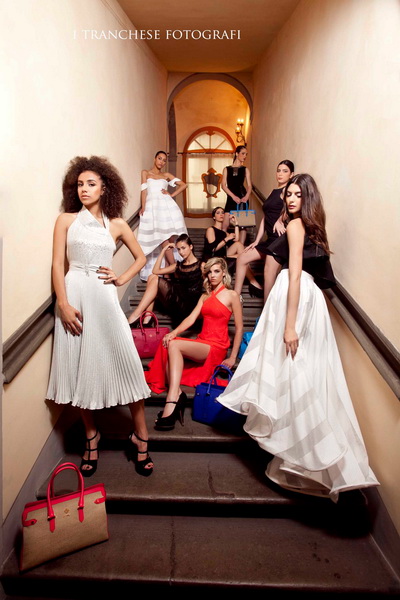 Special guest star was AVARO FIGLIO, milanese designer of incredible refinement, creator of luxury women's wear with his exclusive selection of dresses.
On occassion of the 90th PITTI UOMO,
DEGORSI LUXURY CONSULTING PRESENTS SALON OF EXCELLENCE at PALAZZO CAPPONI (Lungarno Guiccardini 1), Florence, on June 14th, 2016.


TIMELINE OF EVENTS ON JUNE 14th

11 am-2 pm
late breakfast & introduction (press only)

Salon of Excellence at Palazzo Capponi - HIGHLIGHTS

5 pm
Salon of Excellence BOOK presentation
GENTLEMAN WITHOUT A HAT by Mario Dell'Oglio, president of the Camera Italiana buyer moda

6 pm
Salon of Excellence CONCERT
Alessandro Martire, pianist-composer, featuring his latest album "Flames of Joy"

7 pm
Salon of Excellence EXHIBITION
FEATURING  MASTERS OF CRAFTSMANSHIP
for gentlemen
&
FASHION FRAMES
for ladies

8 pm

COCKTAIL sponsored by Tenuta ARTIMINO




World renowned couturier NINO LETTERI showed the unique couture presentation at magnificient ARTIMINO ESTATE and its medicean Villa La Ferdinanda, part of UNESCO artistic heritage of the world,  on June 13th,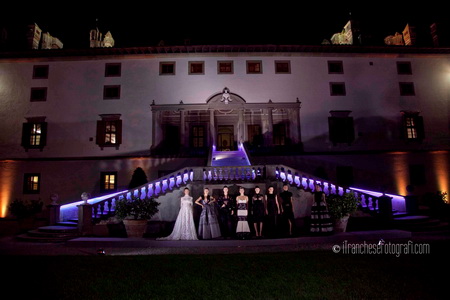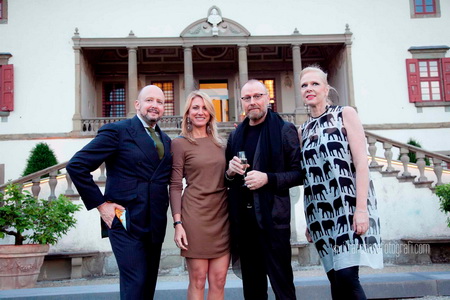 Nino Lettieri's new journey in high fashion is inspired by a visit of an Indian princess from New Delhi to Montecarlo.
The culture and tradition of India, its bright colors and decorations, fluid silhouette, tight pants to the ankle and soft robes, printing and embroidered Elephants, a sacred animal to the Indians, makes the title to the collection.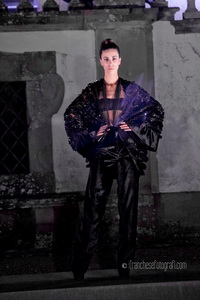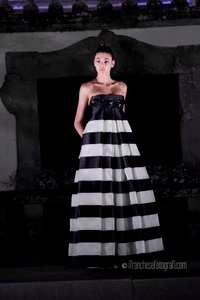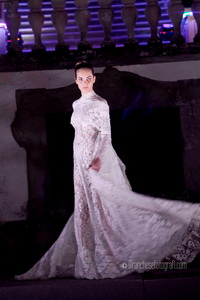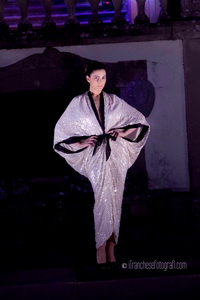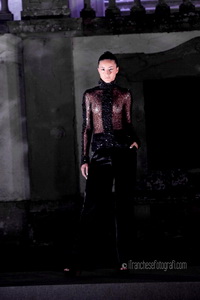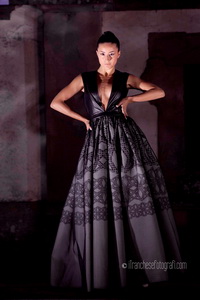 Blacks kaftans in georgette, trapeze dresses, pants in Mikado silk embroidered with crystals and sequins incorporate the pink shades of Indian sunsets and join sensual and nocturnal notes dedicated to the creations for a great evening in a metropolis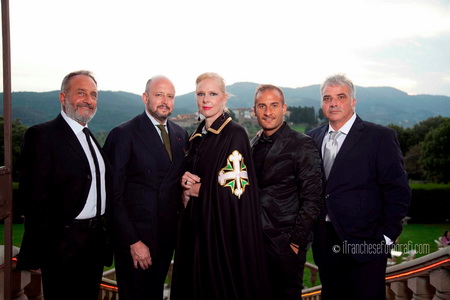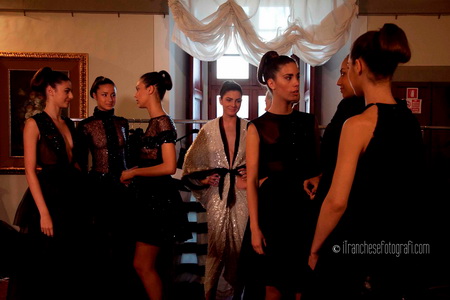 Partners of the event were: Edoardo Tranchese of I Tranchese photography, HM make up Italy and Luciano Carino with models of Pavo Management of Piero Pavone 
Event was organized  in partnership with  Artimino Estate. Thanks to Annabella Pascale for Artimino wines and Hospitality, www.artimino.com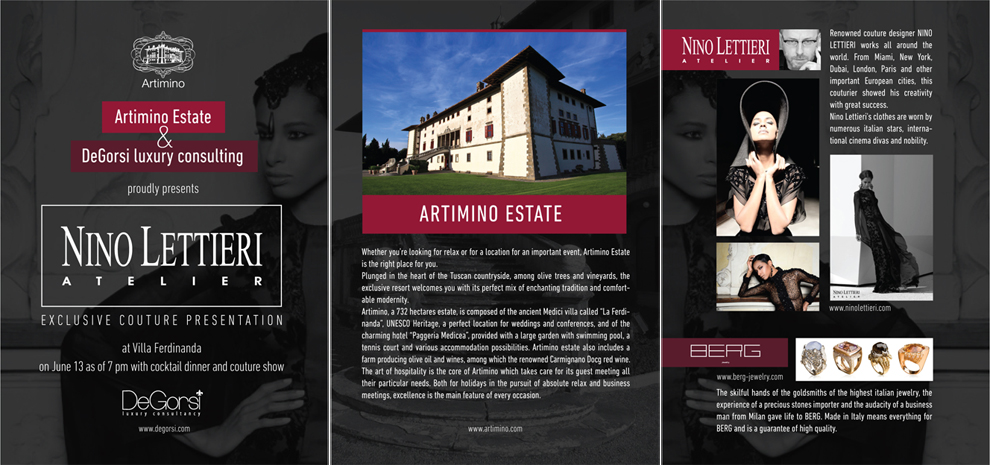 ARTIMINO ESTATE Plunged in the heart of the Tuscan countryside, among olive trees and vineyards, the exclusive resort welcomes you with its perfect mix of enchanting tradition and comfortable modernity.

Artimino, a 732 hectares estate, is composed of the ancient Medici villa called "La Ferdinanda", UNESCO Heritage, a perfect location for weddings and conferences, and of the charming hotel "Paggeria Medicea", provided with a large garden with swimming pool, a tennis court and various accommodation possibilities. Artimino estate also includes a farm producing olive oil and wines, among which the renowned Carmignano Docg red wine.

The art of hospitality is the core of Artimino which takes care for its guest meeting all their particular needs. Both for holidays in the pursuit of absolute relax and business meetings, excellence is the main feature of every occasion.

www.artimino.com


Salon of Excellence in Hotel Bevanda, Opatija, Croatia, April 23-24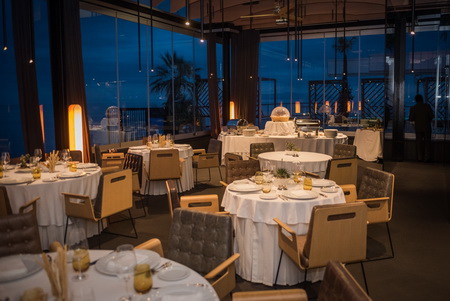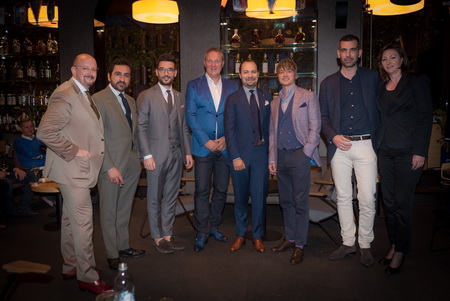 Distinctively exclusive ambiance of the Hotel Bevanda in the seaside resort of Opatija, Croatia, was the ideal setting for yet another in string of efforts by DeGorsi in partnership with Non plus Ultra, to introduce the wider audience to the values of made to measure tailoring.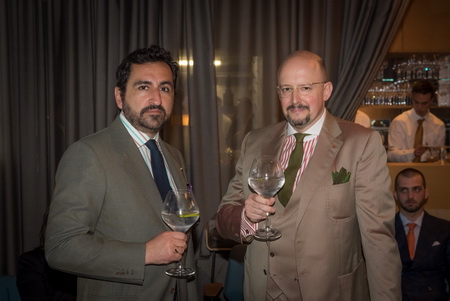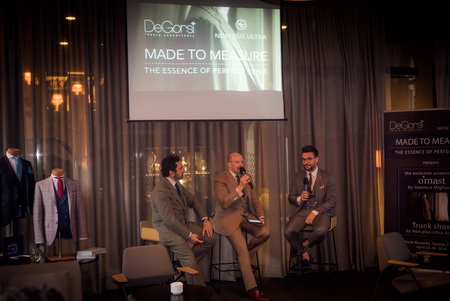 This time, during an event titled Made to Measure-the Essence of Perfect style, we presented some of the finest tailoring artisans and film art masters in one place. Highlight of the evening was live screening of famous art film O'mast by the acclaimed director Gianluca Migliarotti, who dedicated this visual masterpiece to the world of master tailors from Naples.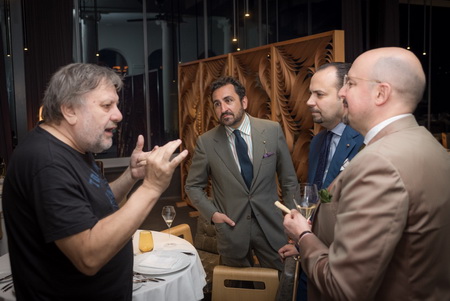 Interesting discussion that followed, moderated by Alex Dordevic, helped gentlemen guests to understand the values of Made to Measure approach. The atmosphere was additionally spruced by presence of world renowned, superstar - philosopher, Slavoj Zizek, who shared with us some of his philosophical standpoints that were much appreciated by his interlocutors.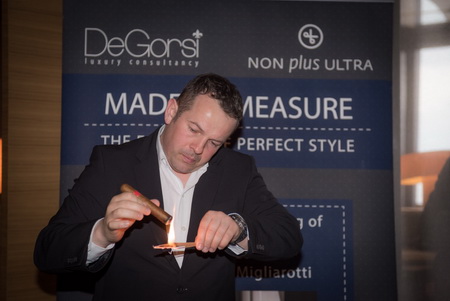 Later in the evening, our guests enjoyed excellent fine dining at the gourmet restaurant Bevanda (now part of elite Relais&Chateaux chain) in pairing with the finest Croatian wines, exclusively selected for the occasion by the best Croatian sommelier, Claudio Jurcic. The following day, selected guests took part at the trunk show, profiting form the personal attention of master tailor Demetrio Cogliandro and Non plus Ultra style counselors, allowing them to acquire the finest new wardrobe for the upcoming season. 
Swankiest hotel on the Croatian Adriatic coast, BEVANDA, nestled in charming Opatija, historic coastal tourist hub since the days of Austro Hungarian Empire, will be hosting the extraordinary event MADE TO MEASURE- the ESSENCE of PERFECT STYLE, brought to you by NONplusULTRA & DeGorsi luxury consulting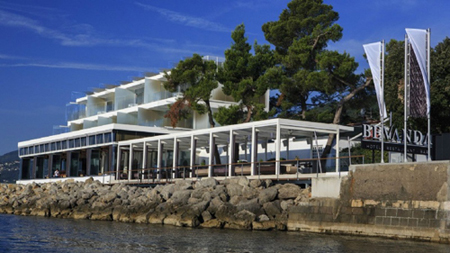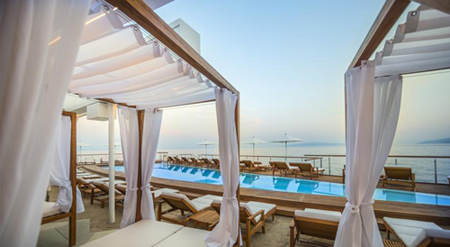 On April 23 and 24, the event will feature the Croatian premiere of iconic film O'Mast by the acclaimed film director Gianluca Migliarotti and will be an excellent introduction to the Dandy Chat session, moderated by Alex Dordevic. Guest speakers will be author Gianluca MIgliarotti, tailor Demetrio Cogliandro and shirtmaker Luigi Cordone. If you wish to attend please send email to bevandamtm@gmail.com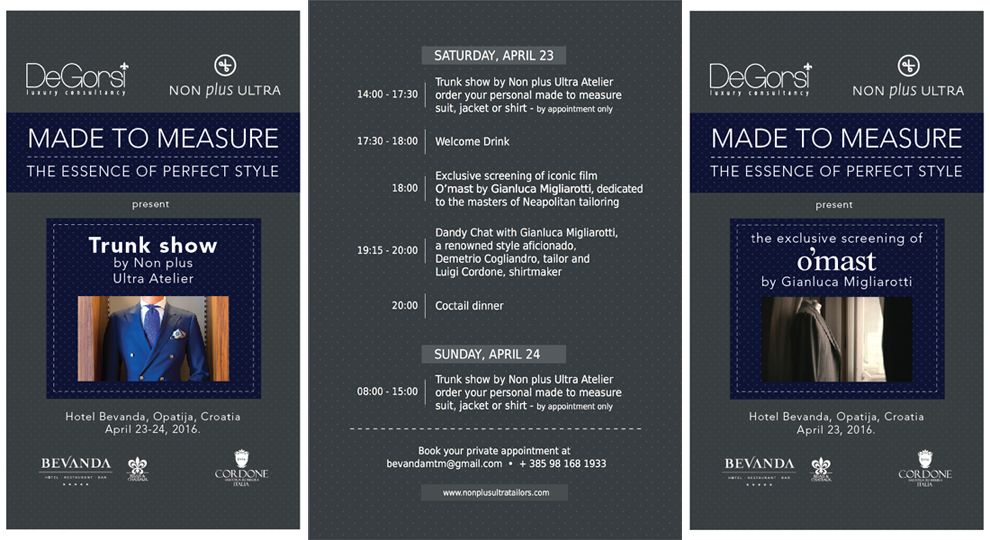 Salon of Excellence by DeGorsi during Pitti UOMO, Firenze, January 14, 2016. in partnership with Credem Banca ROTHSCHILD Bank, curated by Cris Egger Alex Djordjevic of DeGorsi Luxury consultancy, featuring Sciamat, Stefano Bemer, Mantero, Antica Barbieria Colla, with special book signing event by HUGO JACOMET-The Parisian Gentleman and Fashion Frames segment with Cha-Val, Berg, Ella lago di Como and Alberto Adonai.

Credits: HM make up Italy and I Tranchese Photography.


For the third consecutive season DeGorsi luxury consulting curated Salon of Excellence- conference & exhibition, presented by Credem Banca and Rothschild bank on January 14, 2016 at the mesmerizingly beautiful setting of Four Seasons Hotel in Florence.
Presenting the culture of excellence through a selection of finest manufacturers, always respecting tradition but with progressive outlook towards the future, this year's edition was an absolute highlight of PITTI UOMO.
This unique happening was curated by Cris Egger & Alex Dordevic of DeGorsi Luxury Consulting, with support of Camera Nazionale Buyer Moda and its President Mario dell' Oglio.
Key note speaker of this edition was  the acclaimed author and elegance aficionado HUGO JACOMET of the Parisian Gentleman fame. He underlined that the luxury is not necessarily related to cost, but to time needed for a fine garment to be produced, thus having much higher value of money since time can not be recuperated.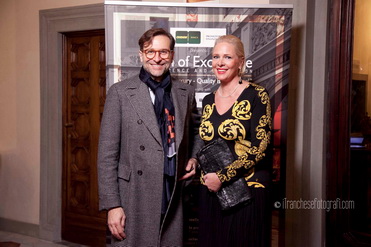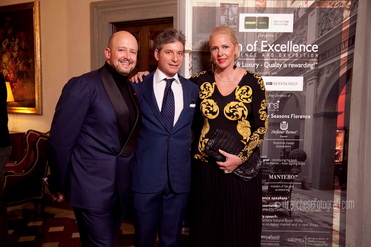 Cris Egger and Mario dell'Oglio, president of Camera nazionale buyer moda / Alex Dordevic, Cris Egger and Angelo Petriccione, regional manager Credem Banca

An introduction to the event's theme "Finance & Luxury - Quality is rewarding" was given by Credem Bank regional manager Angelo Petriccione, while a very interesting overview of the ROTHSCHILD bank activities within the luxury industry landscape was given by its country manager, Alessio Coppola.
An overview of the luxury brands distribution in Italy was given by President of the Camera Nazionale Buyer Moda, Mario dell Oglio who reminded  guests of the importance of this segment of economy.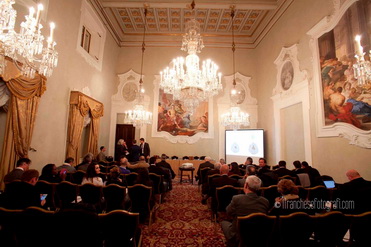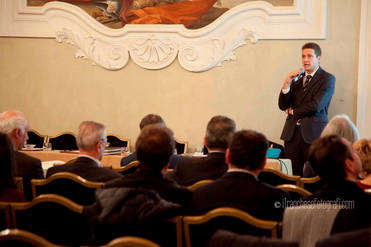 Alex Dordevic, chairman of the DeGorsi luxury consulting, introduced participating masters of excellence from all parts of Italy such as SCIAMAT, bespoke tailors from Puglia, presented by its creative director Valentino Ricci;  STEFANO BEMER, bespoke shoemakers from Tuscany, presented by its CEO Tommaso Melani; MANTERO, renowned silk producers from Como, presented by its president Mortiz Mantero; and ANTICA BARBIERIA COLLA, purveyors of the finest grooming products for men, from Milan, presented by its patron Gianfranco Bompieri.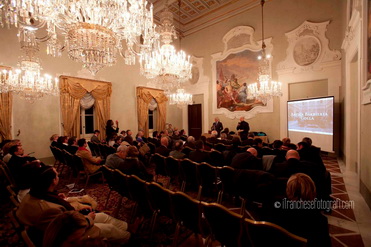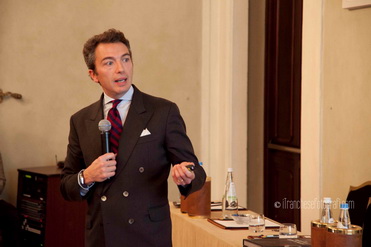 Alessio Coppola, country manager of Rothschild bank
Cris Egger, co-chair of the event, presented the ladies fashion segment titled FASHION FRAMES with CHAVAL, fine silk accessories from Milan, ELLA lago di Como, a superb knitwear for ladies along with uniquely creative BERG jewelers and ALBERTO ADONAI shoemakers from Monte Carlo who showed their latest collection in the exhibition segment of the Salon of Excellence. 
Vibrant atmosphere that followed the conference at the lavish dinner at the Fours Seasons salons, generously provided by CREDEM BANCA, was created  by numerous celebrities of PITTI world in attendance, who once again agreed that Salon of Excellence is one of the key fixtures on the Pitti calendar.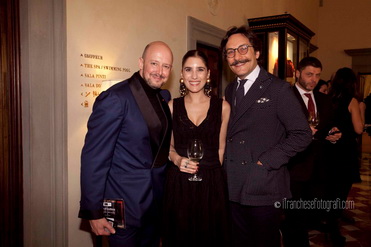 Valentino Ricci of  Sciamat , Alex Dordevic, Gennaro Annunziata of Chiaia and Andrea Luparelli / Alex Dordevic and Begum Khan, designer of jewelry and Serdar Gulgun, famous interior designer from Istanbul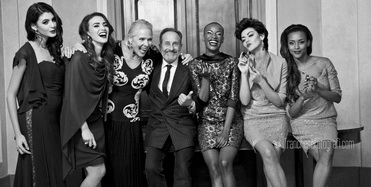 Luciano Carino of HM makeup Italy - beauty wizard of Naples

---------------------------------------------------------------------------------------------------------------------------------------------------------------
Salon of Excellence 2016 - Conference speakers and Exhibitors were:
Hugo Jacomet, >>The Parisian Gentleman<<
Lecturer, curator, flaneur and author, Hugo Jacomet, >>The Parisian Gentleman<< is a public figure and a pioneer of the menswear revival that celebrates well-crafted clothing and elegant gentlemen. Monsieur Jacomet has a strong following and his digital magazine, Parisian Gentleman, is a worldwide reference for sartorial updates and education.
He is a militant defender of tailors, cobblers and craftsmen who follow the strict codes of quality that predate mass industrialization, and he has a reputation for unveiling the gems hidden in the sea of mass-marketed menswear.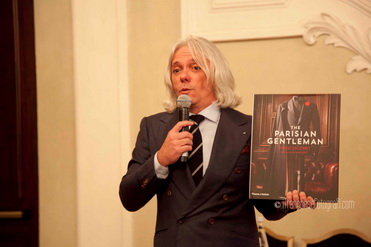 Hugo Jacomet, author of the Parisian Gentleman
---------------------------------------------------------------------------------------------------------------------------------------------------------------
Sciamat
The House of Sciamat was founded in 2002 by a young lawyer, Valentino Ricci. He decided to shape his dream and together with his wife Silvana, his brother Nicola and his dear childhood friend Pippo, he established, as a little precious jewel, the haute couture for men intended to be innovative and designed for true connoisseurs, promoting the new approach to style by a renewed relationship with clients.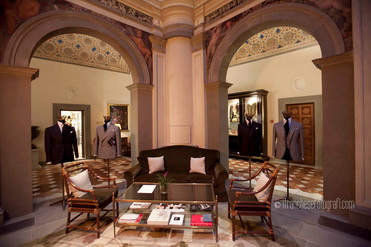 ---------------------------------------------------------------------------------------------------------------------------------------------------------------
Stefano Bemer
Stefano Bemer started his company in 1983 with a goal no less ambitious than creating the perfect Italian shoe. Through his curiosity, he taught himself the infinite variations of shoemaking by repairing shoes at first, attending courses and workshops and then mastering his own technique in the way it's recognized and appreciated today. Thanks to Stefano's commitment, the brand name has been more and more associated with the highest standard of Italian elegance and quality and, nowadays, stands synonymous to both style and refinement.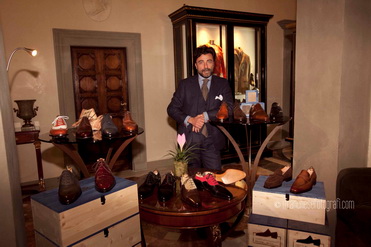 Stefano Bomer bespoke shoemakers
---------------------------------------------------------------------------------------------------------------------------------------------------------------
Mantero
Founded in Como, in 1902, by Riccardo Mantero, Mantero has been a family business since its inception.
Boasting more than one century of history and run, today, by the fourth generation along with other members of the Mantero family, it is a modern, integrated company, which prides itself on a solid managerial structure - an undisputed leader in the creation, production and distribution of textiles for men and women.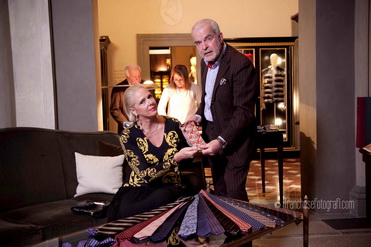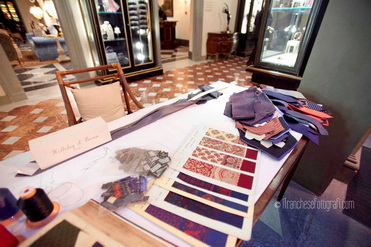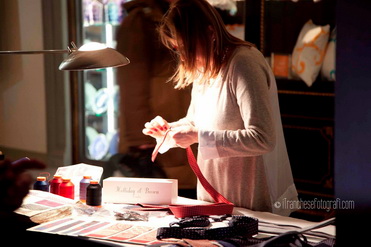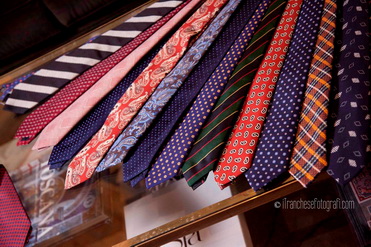 Cris Egger & Moritz Mantero, president of Mantero
---------------------------------------------------------------------------------------------------------------------------------------------------------------
Antica Barbieria Colla

Hundred years of history of hair and bristly beards.
Founded by Dino Colla in 1904, Antica Barbieria Colla is the most famous barber shop in Milan, known for prestige, for its traditions and widely recommended by its Italian and International clientele. Located in the heart of Milan, when entering the store one has the impression of traveling through time into a world where attention to the customer and detailed care are sacred and inviolable values. Under the leadership of its current owner Franco Bompieri, who has been working in the same historical shop since 1960s, the barber shop has consolidated its prestige. As well as providing impeccable hair-cuts and shaves, the owner is also a well-known writer, author of several books.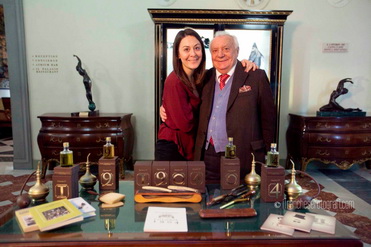 ANTICA BARBIERIA COLLA finest grooming products , repesented by Francesca Bonpieri and patron, Franco Bonpieri
---------------------------------------------------------------------------------------------------------------------------------------------------------------
Featured in the ladies only FASHION FRAMES segment of the event were:
Chaval
It all started in Milan, in 2014. Valentina Gestri Paolucci had moved there from Bologna four years before and had just graduated in Brand Management. Her passions were fashion, which she studied in every aspect, and art.
Then the encounter: with Carlotta Vasoli, specialist in Communication Management. The new friends found they shared the same passions and the same desire to start something new. And so Chaval Milano was born, maison of scarves, atelier of graceful luxury.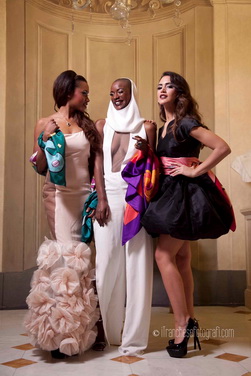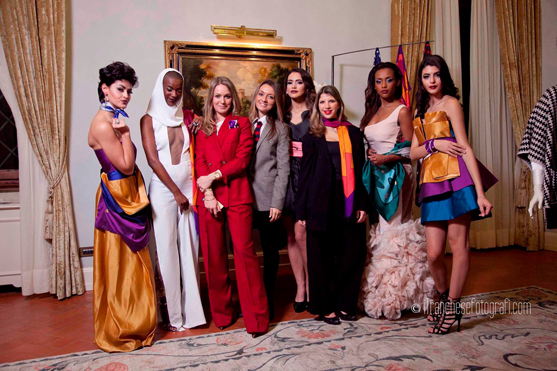 CHAVAL fine silk accessories
---------------------------------------------------------------------------------------------------------------------------------------------------------------
Alberto Adonai
It takes 40 years of experience and at least 120 stages of production so that each of our designs can be called an Alberto Adonai's. Skillful hands to forge. Eyes to look at the smallest detail. Intellect and expertise to shape unique experiences. It takes meticulous Checks to define them "masterpieces". Research, technology combined with sophisticated machinery and advanced quality checks, all are the ingredients which define our modern and advanced production.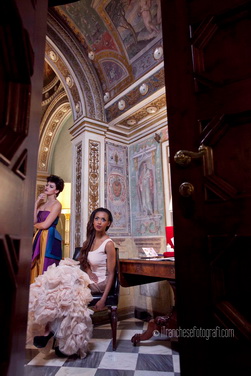 Alberto Adonai shoemakers
---------------------------------------------------------------------------------------------------------------------------------------------------------------
Berg
The skillful hands of the goldsmiths of the highest qualityItalian jewelry, the experience of a precious-stones importer and the audacity of a business man from Milan gave life to BERG. Made in Italy means everything for BERG and is a guarantee of high quality.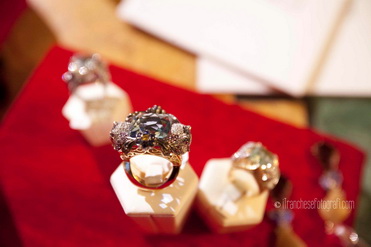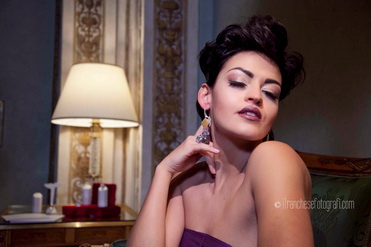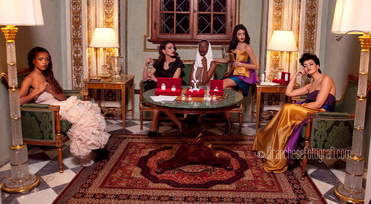 BERG uniquely creative jewelers
www.berg-jewelry.com
---------------------------------------------------------------------------------------------------------------------------------------------------------------
ELLA lago di como
The finest knitwear, oozing the sensual femininity and entirely made in Italy, using only the most precious fabrics. Winter collection is created with finest cachemire , mohair and fur. Daringly mixing attention to detail with versatility, refined colors and superb style.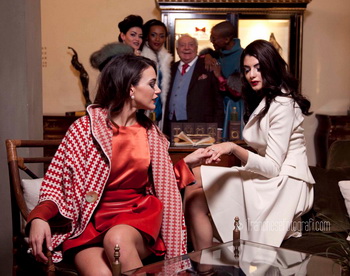 ELLA lago di Como superb knitwear for ladies
www.ellalagodicomo.it
The entire event is held in exclusive partnership with HM Makeup Italy - professional makeup and hairstyle who will be providing our models with the best possible looks, with unique talent proven for years with the most demanding clients and media stations like RAI, MEDIASET, SKY, Showlab.
Make Up & Hair: Luciano and Miriam Carino of HM make up Italy
Photography: Edoardo Tranchese